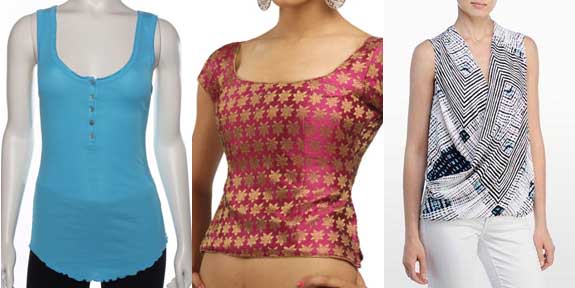 DALLAS, Jun 17, 2013/ — Though a "shell" is technically a "plain sleeveless woman's top that is worn under a suit jacket," it has evolved to be a basic garment in a woman's wardrobe. And though some Fifth Avenue grouch might complain, the lowly shell also had reached designer status as more and more fashion houses include it in their repertoire of offerings.
With summer just around the corner and most of us already experiencing hot weather, the shell, due to its versatility has become as important as the designer blouses as a go-to outfit for women.
Beginning with its first function as a garment worn under a suit jacket, the shell's simplicity with its round or jewel neckline makes it the perfect setting to show off jewelry. Power suits for women are softened by wearing the right jewelry. The power still has the "I am woman, hear me roar" effect, yet it retains the feminine grace thanks to the shell.
And since shells now come in stripes and pretty patterns including different styles like a draped front or even in the traditional sari blouse style, don't forget to pack one or two, even three of them in your suitcase when you travel this summer. After all, the shell can also work as a tank top to go with your jeans or shorts.
[MARI DAVIS]