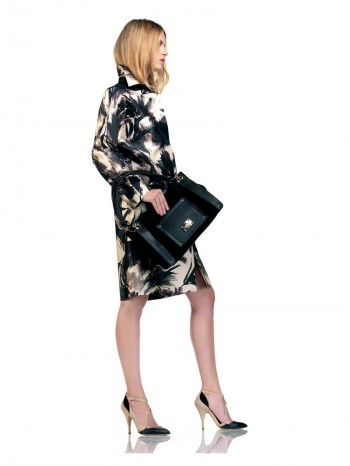 MILAN, Jul 11, 2013/ — To the delight of her fans, Anna Molinari has presents the Blumarine Abstract Flower capsule collection for Fall/Winter 2013/2014 season.
A special edit and creation, the Blumarine Abstract Flower capsule collection offers a sophisticated palette of ivory and black.
Consisting of a range of daywear items, both tailored pieces and knits, this special edit proposes a Fifties-style dress with lace inserts, a classic pencil dress, a flared skirt, a minimalist design overcoat, and blouses in silk voile.
The genetic make-up of the brand is then showcased by a special knit, the iconic Blu-Vi, the season's real must-have item.
An elegant and sophisticated capsule with a fully mapped-out identify, the collection exemplifies the Blumarine style through a combination of graphic floral effects and clean lines and silhouettes.
Blumarine Abstract Flower will be available in boutiques worldwide in July 2013