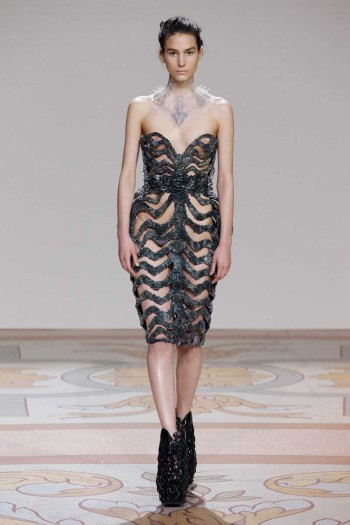 PARIS, Jul 2, 2013/ — I have always maintained that haute couture is the laboratory of fashion, a place where fashionistas still look towards to for innovation. And this season, Iris Van Herpen did just that as she went back and forth between innovation and craftsmanship for her "Beyond Wilderness" collection.
With the help of artists, scientists and architects, Iris van Herpen explored the natural world, taking from it organic shapes to create startling beauty with the use of science and technology.
Through her collaboration with artist Jolan van der Will, who has spent several years pondering the possibilities of magnetism, they have created dresses whose very forms are generated by the phenomenon of attraction an repulsion.
Iris van Herpan draws equally upon the Life force that pulses through the sculptures of David Altmejd. His wild organic forms derived from the regenerative processes of nature have greatly inspired "Beyond Wilderness."
Balancing respect for the traditions of atelier craftsmanship with each garment subject to individual handiwork, Iris van Herpen has nonetheless broadened the horizons at her domain: materials and processes.