PARIS, July 2, 2013/ FW/ — Entitled 'Marjorie Renner Discusses her Luxury Handbag Line', drawing from a truly cosmopolitan imagination, each Marjorie Renner bag, purse, and jewelry box are exclusively handmade in Paris, France, and stands as a testament to inimitable luxury, cool refinement, and peerless design perfection.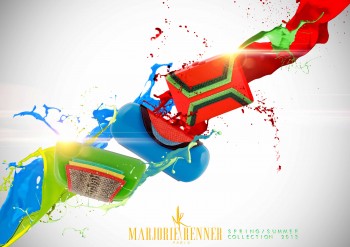 Marjorie Renner's designs are born of a creativity inspired from experiences across the world. With designs taking you from wild fantasy to timeless classicism, Marjorie Renner re-imagines the form and texture of the natural universe.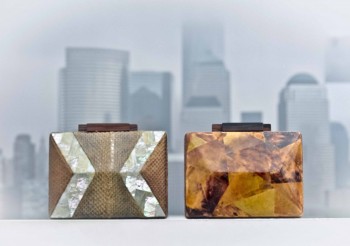 Fashion Windows catches up with the talented designer, Marjorie Renner to discuss her luxury handbag line.
Fashion Windows: What was the inspiration for your latest handbag collection?
Marjorie Renner: We are launching the "CANDY COLLECTION" at the "Who's Next" Premiere Classe show in Paris Porte de Versailles this July. I was inspired during my latest show in New York this May, where the candy stores in Times Square  caught my eye. My daughters love goodies like M&Ms and Skittles and their bright colors started me thinking about a theme. Back in Paris, I had a similar feeling looking at the macarons of Ladurée and Pierre Herme. These famous sweets are so vibrant in colors and flavor and just the happiness they bring to kids as well as adults, I wanted to bring a similar feeling to the women who choose my handbags.
FW: What were your favorite materials and hues in your handbag collection?
MR: I work on materials indigenous to my birth place – it gives me the opportunity to  promote what my roots are.  I like playing with a mix of elements of wood, fibers, and pelts.  But my most favourite is to work with discarded components and create something that will come out as extraordinary. For example, my bags that are made of the artistic finish from a wood eaten by termites – it's amazing the beautiful patterns they create. The patterns of a simple leaf laying on the ground reveals beautiful designs when inlaid onto my bags.
FW: What is your favorite piece in your collection?
MR: I like them all- if ONLY I can have a piece of my bags – I will but I may need more shelves in my closet.
FW: What inspires you to design?
MR: Women inspire me. Every time I see a woman, I look at her purse and I wonder what is it in her purse and what is she like? The purse a woman carries is part of her identity, so I try to create something that fits her personality.
FW: What is your best career advice?
MR: I am a DREAMER… and I believe that there is nothing wrong in dreaming…BUT I always tell people I know to make sure that you have to wake up and fulfill that dream. Action will make dreams come true.
FW: What has been the best moment of your career thus far?
MR: First and foremost is when I see women carrying my purses, that is the ultimate satisfaction for a designer.
Having been invited to do a show and presentation of my purse line with famous designers is a great moment in my designing life. I have had the opportunity to participate in a show with Wolfgang Joop in his Potsdam, Berlin show and with Maciej Zien of Warsaw, not to mention the designers that I work with in my home country.
FW: What is next for the Marjorie Renner Paris brand?
MR: We envision to secure mainstream European and US distribution through major department stores. We are also targeting to launch our jewelry and accessory lines in 2014.
FW: Do you have anything else to add?
MR: Last December, the MR Paris team trained mothers of sexually abused children about learning the process of making bags, from pattern making to sewing in order to be self-sustaining. We support educational scholarships for these children as well.
Likewise, MR Paris supports a Paris-based journalist group called Pinoy Sojourners in their educational work with the young children in need of education in the Philippines.
For more information about Marjorie Renner, please visit:
http://www.pinoysojourners.com/m-for-marjorie
http://www.cameleon-association.org/en
www.facebook.com/MarjorieRennerParis
www.twitter.com/MarjorieRenner
[Darby Radcliff] Photos Courtesy of Marjorie Renner