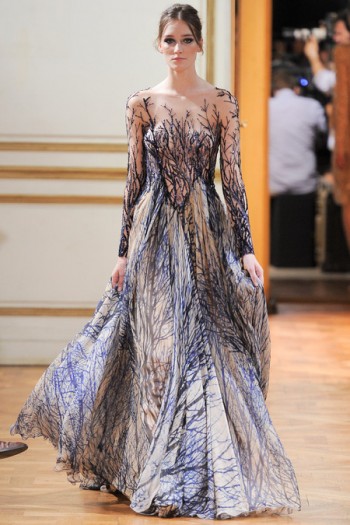 PARIS, Jul 8, 2013/ — Succumbing to the current zeitgeist of fairytale mania, Zuhair Murad brings his ladies to "The Enchanted Forest," where he turns them into a modern day Cinderella, Sleeping Beauty, and (how can we forget) Snow White.
The forest is magical; instead of mid-summer, it is the onset of winter. Her embroidered dress reflects the shining moon rays, barren branches cling onto the draping and the shadows of tree clusters imprint the silk…
From an iridescent fabric, sunburst pleats worthy of Mme Grès, lace tattooed onto the skin, emanates a rich and sensitive dream-like spirit.
Yet, the imagination of Zuhair Murad is also aware of reality, the sensuality of women. Here, officer collars embrace fragile necks, long sleeves in transparent lace blend in with the flesh, Chantilly lace merges with tulle, silk chiffon undulates in skittles at the bottom of a siren dress, satin crepe inlaid with lingerie reveals the back with voluptuousness.
The organic geometry of hand-embroidered trees or prints similar to black and white snapshots mingle with Art Deco lines, showcasing rigor and refinement. Persian green, electric blue or wine red lamés give the cue to foggy nuances.
Behind the turmoil and the chimera, the Couturier dictates the precision of a bustier created with an accordion pleating while interminable lengths of georgette crepe are worked into a remarkable sunburst pleat.
A cape in ostrich feathers, an asymmetrical dress with an incisive sleeve cut in devoré velvet, a jumpsuit inlaid with black flower lace, all set the tone for this couture show, marvelously positioned between dream and reality.