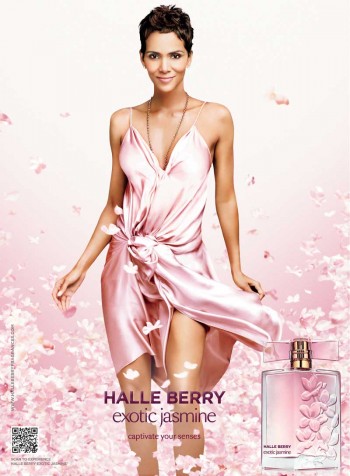 NEW YORK, Aug. 23, 2013 / — Captivate your senses with the exotic scent of jasmine, surrounded with an array of sensual blossoms. Introducing Halle Berry Exotic Jasmine, an irresistible scent that is perfectly feminine for today's modern, sexy woman. Like Halle herself, Exotic Jasmine is modern, sensual and captivating.
THE LURE OF JASMINE
A backdrop of seductive wood notes and skin musks warmly embraces the star note—Jasmine—in its purest form. Exotic Jasmine captures the soft femininity of a sexy, modern woman, inviting enchantment with its irresistible allure. The lush, seductive scent of jasmine gently caresses the skin and lures you in with its modern, sensual appeal.
Top notes of fresh Violet Leaf, bright Neroli and airy Cyclamen lead to a captivating heart of blossoming Jasmine Sambac, lush Plumeria Blossom and Fluid Hedione, drawing you in. The fragrance dries down to a warm base of White Cedar, Soft Vetiver and Skin Musk that lingers on the skin.
The scent was developed by Symrise perfumer David Apel. He was inspired to create a fragrance that evoked Halle's soft femininity and modern sexiness.
STRIKING PACKAGING
As timeless as the woman who inspired it, the Halle Berry Exotic Jasmine packaging visually captures the light, feminine floralcy of the fragrance. The delicate pink juice shines through a chic bottle embossed with a jasmine floral pattern. The signature HB monogram discreetly embossed on the top of the bottle serves as a subtle nod to the fragrance's iconic creator. Housed in a subtle jasmine-print package, the bottle exudes soft femininity.
Halle Berry Exotic Jasmine captures the actress's timeless femininity and allure in an exhilarating, irresistible blend—an ode to Halle's radiant beauty and striking presence.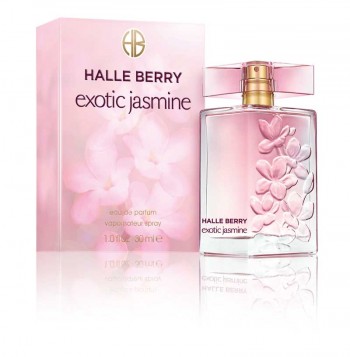 FACT SHEET
Top: Violet Leaf, Neroli, Airy Cyclamen
Mid: Jasmine Sambac, Plumeria Blossom, Fluid Hedione
Dry Down: White Cedar, Soft Vetiver, Skin Musk
Fragrance Genre: Airy Sensual Floral
The Halle Berry Exotic Jasmine Collection
Exotic Jasmine Eau de Parfum
0.5 fl. oz / 15ml
$17.00
Exotic Jasmine Eau de Parfum
1.0 fl. oz / 30ml
$28.00
Exotic Jasmine Body Mist
2.5 fl. oz. /75ml
$8.99
Exotic Jasmine Body Lotion
2.5 fl. oz. /75ml
In sets only
Exotic Jasmine Shower Gel
2.5 fl. oz. /75ml
In sets only
Available worldwide in August 2013