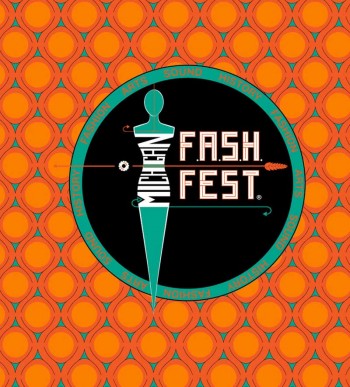 DETROIT, Aug. 1, 2013 /— Let the trumpets sound, announcing the featured designers for the 2nd annual Michigan F.A.S.H. Fest Runway Industry Showcase and Gala on September 6 th, 2013 in downtown Detroit on Library Street. The French doors of the 200 foot tent will open at 8 PM.
The designers were curated with careful consideration by the Michigan F.A.S.H. Fest team. The run of show includes: Alexandria Cheri by Kimberly Oneal-Boykin; IVY's Custom Corsetry by Robin Richardson; Everything Alpaca; Bridget Sullivan Designs; and Chrysalis Fashions by Mira Bedi.
The Show will open with Alexandria Cheri by Kimberly Oneal-Boykin – designs of captivating formal wear with intricate sweeping details for all occasions.
Robin Richardson, founder of IVY's Custom Corsetry, is renowned for her design esthetic and technical skill in building custom corsets.
Everything Alpaca develops and manufactures fine clothing, accessories, and home furnishings at their design facility in Arequipa, Peru. All of their products are created from the finest Royal and Baby alpaca fibers.
Bridget Sullivan, a recent graduate from CCS in Detroit, has worked as an embellishment design intern at Diane Von Furstenburg in New York City and Esperanza Spalding has proudly performed in her designs on her World Tour.
The finale designer is Mira Bedi for Chrysalis Fashions, who has an innovative market with an elegant mesmerizing modern twist on traditional Indian Fashion.
The talented designers, all with a Michigan connection, present impressive and intriguing works to both industry professionals and savvy consumers alike. The runway flanked by prestigious front row seating, reserved for buyers, provides the view and "push" as an opportunity for wholesale purchasing and a strategic platform for the Michigan Garment industry.
Proceeding the Designer Collections, the celebration continues as the ambiance transforms into the Gala with a "Revealing" twist. Guests will also indulge in a plethora of savory choices from Vicente's Cuban Cuisine, mix and mingle with designers for networking connections for future follow thru. www.vicente.us
Michigan F.A.S.H. FEST is a public relations and experiential marketing tool, for Business to support Creative and Creative to showcase Business.
All events are ticketed, accessible to the Deaf and Hard of Hearing Community, and benefit Forgotten Harvest to Feed the Need of the Hungry in the Metro Detroit area.
For tickets and information, visit: www.michiganfashfest.com