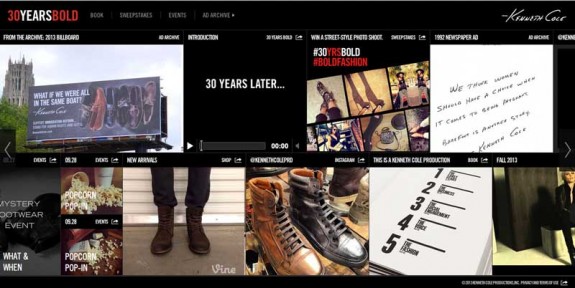 NEW YORK, Sept. 16, 2013 /– After launching the company's 30 year anniversary with a February return to New York Fashion Week, Kenneth Cole continues the 2013 celebration with the September 12 launch of 30YearsBold.com.
Designed to salute the company's 30 year heritage of being bold and making bold moves, the digital hub will link visitors to: the new Kenneth Cole Advertising Archive , a first look at This is a Kenneth Cole Production , a coffee table book celebrating Kenneth Cole's 30 year career in fashion and social engagement, a 30th Anniversary Digital Sweepstakes , as well as a calendar of 30th Anniversary Retail Events and Mystery Offers .
Interactive Digital Ad Archive
Launching on September 12, a comprehensive, interactive digital archive will chronicle the brand's 30 year advertising journey. By accessing the archive, visitors will be able to dynamically search any Kenneth Cole advertisement using specific filters. After accessing the ads, consumers will have the option of digging deeper to explore more about the campaigns, and share the content they are most passionate about through a variety of social platforms including Twitter, Pinterest, Facebook, and Tumblr.
This is a Kenneth Cole Production
Kenneth Cole has collaborated with Rizzoli on the publication of a coffee table book celebrating his 30 year career in fashion and social engagement. Featuring additional behind the scenes content in the form of augmented reality, consumers will be encouraged to scan a sticker on the book cover to download Junaio, a free mobile app, which will launch an image and personal message from the designer. In addition to the cover, select pages throughout the book have also been activated with augmented reality giving readers special access to insider video content about the designer and his company.
On sale October 22, the book will be available at all Kenneth Cole stores worldwide, on kennethcole.com and wherever fine books are sold. 100% of Kenneth Cole's profits from the book will be donated to amfAR, The Foundation for AIDS Research.
www.kennethcole.com