New York, September 12, 2013/ FW/ — Entitled 'Trina Turk Spring 2014', designer, Trina Turk and Mr. Turk were strongly inspired for the Trina Turk Spring 2014 collection by the scenic route up the Pacific Coast Highway, laid back coastal towns, past secret surf spots, and sun-bleached color. This collection consisted of combined patterns or matching total-look sets that were composed of jacquards, mesh, washed lamb leather, textured print base cloths, fluid chambray, crepe and georgette.
The Trina Turk Spring 2014 looks were designed in hues of graphic accents of black and bright touches of dill, grapefruit and cherry that highlighted the essential Prisma, Grid, and Pop Art Floral printed pieces.
Mixed media, pattern diversity, and surface interest elements infused the key ready-to-wear looks in the Trina Turk Spring 2014 collection, which included a bone leather zip skirt and bonded leather vest, pop art floral canvas jacket, pop art floral mix media sweatshirt and basket weave trouser, as well as a sporty-chic mesh track pant.
The Trina Turk Spring 2014 collection also included swimwear looks for men and women such as a prisma print bikini, zig-zag print safari board short, and plaid and stripe knit jacquard swim trunks.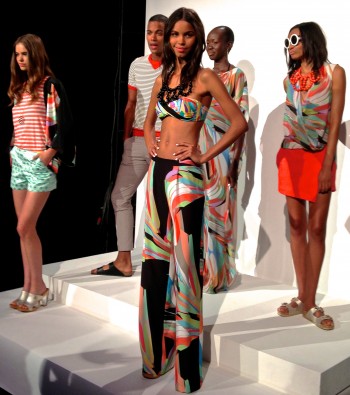 For More Information about Trina Turk, Check Out:
@trinaturk
#trinaturkspring2014
[DARBY RADCLIFF] Photos by Darby Radcliff