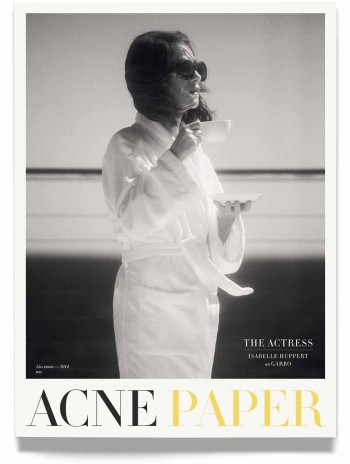 PARIS, Oct 26, 203/ — In the words of Thomas Persson, Editor–in–Chief and Creative Director of ACNE
Isabelle Huppert, one of the greatest actresses of our time, is having a cup of tea in between takes, playing the part of Greta Garbo for the cover story of this issue. Acne Paper is dedicated to actresses and we are on the French Riviera, at the very spot to which Garbo travelled incognito with her friends who owned a villa called The Rock. Grand and mystical, sitting majestically on a secluded cliff, it is "the perfect place for Garbo's ghost" as Huppert wrote in my grandmother's guestbook after shooting.
Having walked these shores since childhood it was magical to finally see the vision of Garbo here, gazing over the big blue sea as the waves crashed onto the cliffs beneath her.
Drama can be magic, or at least an escape from everyday life when the illusion is so good that we forget all else. In the cinema or at the theatre, for a f ew hours we are transported to another place, and sometimes when we are there it happens that we discover ourselves.
As Liv Ullmann puts it: "I feel that actors– like conductors, composers, dancers and musicians – by using their soul and their spirit, can reach people and say something about what it is to be human and why we are human beings."
The art and craft of acting is what we wanted to look into with this issue. What is acting all about? What does it mean tounderstand the emotional life of someone else? Do women have a channel into the psyche that men don't have?
Acne Paper's signature has always been to bridge the past and the present by working around a timeless subject, and to make it our own. This is the first issue in which we discriminate an entire sex, as it's all, or at least mostly, about women, but outstanding women who in their individual ways have moved us with their unforgettable performances. We ponder them in these pages, directly or indirectly, through portraits, interviews, documents, fashion shoots and reminiscences – an illustrious group of women, many of them legends.
Great actresses are heroines and we dedicate this issue to them, while also celebrating the people behind the scenes as well as the artists who, like us, find certain actresses so inspiring they become part of their artistic expression.
This is an invitation to a film set devoted to the subject of acting and the actresses we've come to know, or dreamt of, or only vaguely heard of, and those we'll hear plenty more about.