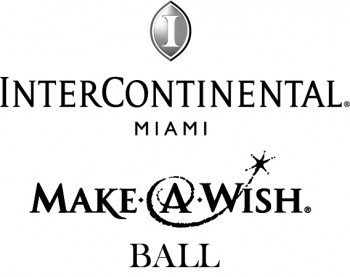 MIAMI, Oct 30, 2013/— On Saturday, Nov. 2, from 10:30 p.m. until 3:00 a.m., the 19th Annual InterContinental® Miami Make-A-Wish Ball, Make-A-Wish® Southern Florida and InterContinental® Miami will celebrate the 6th Annual InterContinental® Miami Make-A-Wish Nightclub.
Designer Traver Rains will debut his "La Nuit Magique" collection at a high-energy runway show inspired by a 1930s vaudevillian show.
Considered the evening's grand finale, The InterContinental Miami Make-A-Wish Nightclub is always a highly-anticipated experience introducing the event to Make-A-Wish® Southern Florida's next generation of supporters.
The event's host committee is led by "The Three Amigos" –Shareef Malnik, Gala Chairman and proprietor of The Forge l Restaurant and Wine Bar; Robert B. Hill, Gala Host & InterContinental Miami General Manager; and Norman Wedderburn, President & CEO of Make-A-Wish Southern Florida – together with Michael Capponi, Gala Vice-Chairman and President & CEO of The Capponi Group. Co-Chairmen of the event are Maxwell Blandford, Clif Loftin, Antonio Misuraca, Danny Estevez, Sarah Bromley and Felicia Marquez.

Designer Rains, of Heatherette fame returns as featured designer for the second year, describes his "La Nuit Magique" concept as "a 1930s burlesque meets a modern-day Cirque du Freak."
With a celebrity following that includes Adam Lambert, Perez Hilton and Taryn Manning, Rains is known for avant-garde custom couture that is right at home on the red carpet.
"This year, guests can expect lots of skin, with a tiny hint of bondage during the fashion show," said Rains. "And, of course, there will be many fashion moments on the runway that will make guests gasp and smile."
The elaborate décor for the event is being created by DECO Productions. Guests will enter InterContinental Miami's Biscayne Ballroom, leading directly into the fashion show. DJ Sandman will be awaiting them, spinning his intoxicating groove.
After Rains presents his collection, guests will be invited to step into character and dance on the catwalk or, for those less exhibitionistic, take-in the live burlesque shows enacted by risqué dancers, as well as other outrageous surprises as the night continues.
Tickets for the InterContinental Miami Make-A-Wish Nightclub are $100, (for those already attending the Ball prior, there is no charge) and can be purchased at https://hotelballafterparty2013.eventbrite.com
There will be a complimentary open bar and suitable evening attire is required.