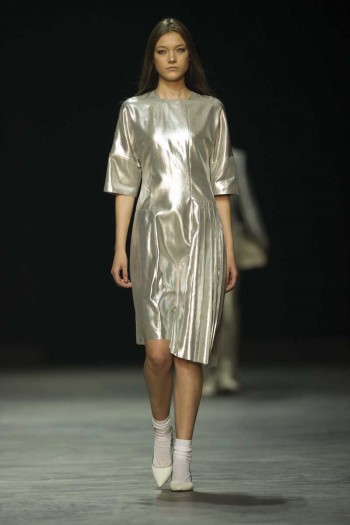 DALLAS, Oct 25, 2013/ — A familiar name in a new label, the new Calvin Klein Platinum Label puts a new perspective to the brand. Calvin Klein's signature minimalism has been decoded, reassembled and then revealed.
Spring 2014 is its inaugural collection designed for both men and women. Contemporary shapes, innovative fabrics and a sense of attitude intersect and diverge to create a pared down, effortless line representing today's Modernism.
Calvin Klein Platinum Label gives a fresh perspective on the brand's signature aesthetic – reworked and reconstructed with an athletic, dynamic pulse – fusing street, sportiness and strength to form sophisticated, yet cool designs with an edge.
Fabrics. Materials and surfaces reflect a change and a fresh beginning; a balance of technology and craft. Pure, noble fabrics – like featherweight wool denims and chambrays, silks, leathers and silk/cottons – are juxtaposed with futuristic, technical materials.
Colors. Tones of platinum greys and blush, naked and buff neutrals are accented with black and white for a graphic effect. Viridian green is counterbalanced with modern watercolors, such as pale ice pink. Platinum metallics lend a touch of light and shine.
Key looks. Refined and defined silhouettes for him and her. Sporty, active shapes based on the t shirt, the sweatshirt, the tank – and all things American. For women, this Minimalist approach is paired with a new take on slip dressing.
Lines are feminine and sculptural. The equilibrium of fabrics, proportion and silhouette is always purposefully slightly off. Skirts and dresses are either sculptural and defined or fluid. Short and cut above the knee, manipulated seams and precise pleats play with asymmetry.
The aesthetic is echoed for men, with a focus on shapes, forms and constructions, offset with fluid underpinnings and pants – creating contrast and a new ease.