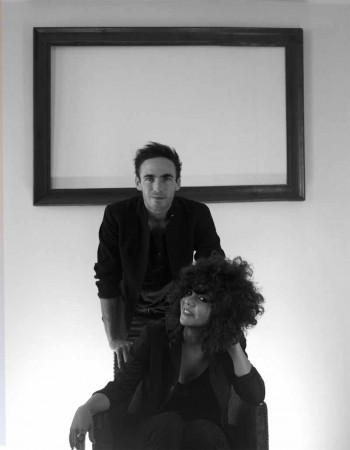 PARIS, Oct 28, 2013/ — Laurence Charbit and Victor met at the age of 19 while studying at Atelier Chardon Savard, and never leave each other since then.
After working at Dice Kayek (Laurence) and Jean Paul Gaultier (Victor), their sensibility and vision of fashion brought them into an intense collaboration.
Over 3 years ago, this close relationship "delivered" a new brand with strong cinematographic inspirations, mixing architectural rigour and minimalism, with poetic background: Is Not Dead
The movie and theatre industry has always been an important connecting thread in every collection.
Laurence directed several short films for the brand. This season, both designers collaborated in making the Spring/Summer 2014 movie and was shown for the first time during the cocktail / presentation last September the 25th.
Victor (with his twin brother) was featured in the last Guy Ritchie 's Sherlock Holmes accompanied with Robert Downey Jr and Jude Law. He has also been chosen to participate at FW13 Prada show, modelling beside Gary Oldman, Emile Hirsh and Adrien Brody.
The 4th collection of this elegant, rock and sensual brand, is turning more into pop culture leading us into technical fabrics and electric colours, in particular a serie of colourful printed T-shirt in collaboration with William Klein.
The Is Not Dead Spring/Summer 2014 collection.
Photos courtesy of Is Not Dead