NEW YORK, October 21, 2013/ FW/ — Entitled 'Michelle Smith Discusses her Milly Spring 2014 Collection, the talented designer, Michelle Smith of Milly, unveiled her fierce and feminine Spring 2014 collection that consisted of transparency, bold, graphic prints, and flirty Japanese and Hawaiian florals.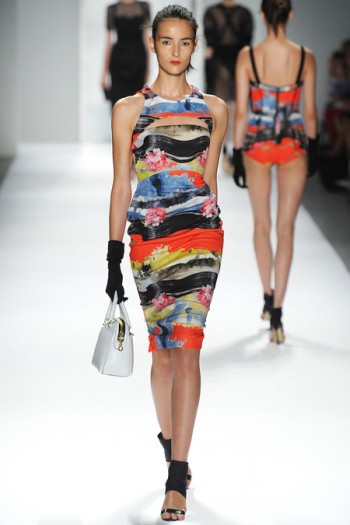 Fashion Windows editor Darby Radcliff catches up with Michelle Smith to discuss her Milly Spring 2014 collection.
Fashion Windows: What was the inspiration for your Milly Spring 2014 collection?
Michelle Smith: I wanted to turn the traditional notion of femininity on its head,creating my own ultramodern interpretation. I used luxurious, technical fabrics that played with the eye and unveiled the female form in unexpected proportions.
What were your favorite materials and hues used in the Spring 2014 collection?
I used my own custom-made prints, based on Japanese and Hawaiian florals, inspired by a trip I took to Hawaii and Tokyo earlier this year.
What are your favorite looks in the collection?
The first and last few looks were my favorite–I like to make a statement at the beginning and the end. Fun fact: the model wearing the last look, Loulou Robert, starred in my first international print advertising campaign, which I launched this fall.
What's next for MILLY?
I just redesigned my ecommerce site, (millyny.com) and launched my first blog, The MILLY Mag, (blog.millyny.com). There are a lot of exciting projects in the works.
Anything else to add?
Yes! I just made some really fun limited-edition t-shirts based on my new favorite phrase, "Sorry for Partying." I made one for myself and wore it with a cocktail skirt to a gallery opening and the response was wild. I gave them away at NYFW, and decided to make them available to everyone.
Get yours here: http://www.millyny.com/shop/tops/fashion-show-tshirt-111424.html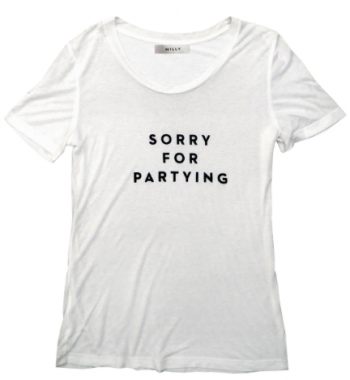 For More Information about Milly, Check Out:
https://www.facebook.com/MillyNY
@MillybyMichelle
[DARBY RADCLIFF]
 Photo Credit: GETTY Images