NEW YORK, October 8, 2013/ FW/ — Entitled 'Monica Hargrove Discusses her Athletic Aesthetic,' Monica Hargrove is a highly gifted American track and field athlete who specializes in the 200- and 400-meter dash. She won the silver medal at the 2006 IAAF World Indoor Championships as part of the 4×400 meter relay team, and also set a world best in the sprint medley relay at the Penn.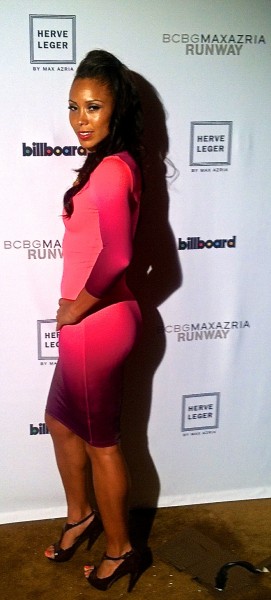 Monica is also the first female track and field athlete to represent the athletic brand, Under Armour. Since her partnership with Under Armour was formed in 2009, she has done extensive modeling for them and has been UA's most used female athlete in print advertisements, in-store displays and commercials.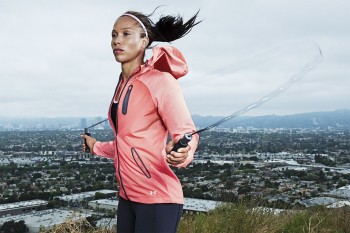 Fashion Windows editor Darby Radcliff catches up with the talented athlete to discuss her athletic aesthetic and sporty style on and off the athletic field.
Fashion Windows: How did you get started in Track &  Field?
Monica Hargrove: I first started running track my freshman year in High School. I went out first for cross-country, but didn't enjoy it because I wasn't built to be a long distance runner. I then began sprinting and competing in multiple races during the indoor track season.
You've attended various competitions in the U.S. and Europe, what has been your favorite competition?
Competing in the PENN relays held in Philadelphia, USA was my favorite competition because I loved the huge crowd of 30,000 fans cheering on the U.S.A Track and Field team.
What is your best career advice for athletes?
We all have dreams, but don't want to put in the work. In order to excel at school, a job, athletics, etc., you have to work hard and have actions behind your dreams.
Also, my best advice is that in life there is always going to be a struggle, and therefore, there is no gain if there is no pain.
Regarding your fashion sense, what is your personal everyday style?
For my personal style, I do wear a lot of sporty pieces, including hoodies and warm up pants, but I always change it up and take risks in fashion.
I like to be different and mix it up by rocking urban, classy, and sexy ensembles with animal prints.
What is your fall staple and favorite trend this season?
Right now, I am really into sexy, leopard trends, and like to pretty much mix it up with a black or bold red.
As for the Spring 2014 season, I am really looking forward to all the bold neon colors and floral prints. During Mercedes-Benz Fashion Week, I especially enjoyed the Venexiana show. I loved all the colors, especially the lavender and sequined Spring 2014 looks.
What is your best fashion and beauty advice
My best advice is to be active and healthy, watch what you eat, drink lots of water, and you will feel better and have more confidence.
You're affiliated with Under Armour, what is your favorite product from their brand?
I got involved with UA in 2009, and my favorite Under Armour pieces to wear are the printed headbands, cotton charged t-shirts, and capri pants.
What is next for you?
My next project is my "Strength is Beauty" campaign, which is a campaign inspiring females and athletes to be strong and live a healthy, active lifestyle with a balanced mind, body, and spirit.
I am also beginning training for the World Indoor Championships in March.
For More Information about the stylish sports star, Monica Hargrove, please visit:
@monica_hargrove
Under Armour Promotional Videos featuring Monica Hargrove:
http://www.youtube.com/watch?v=Lp7wsFPcsfU (Preview)
http://www.youtube.com/watch?v=7K4a-SMfQJM
[Darby Radcliff] Photos Courtesy of Under Armour and Monica Hargrove