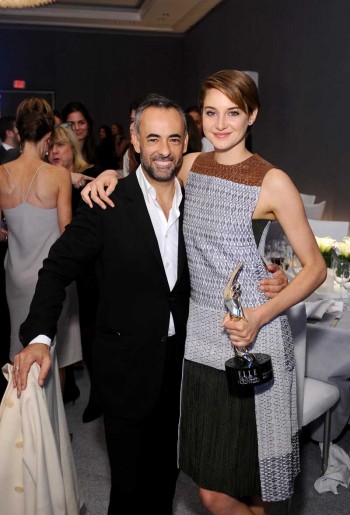 NEW YORK, Oct 23, 2014/ — At the 20th annual ELLE Women in Hollywood celebration, Shailene Woodley, famous for her role as Amy Juergens in the ABC Family series The Secret Life of the American Teenager, received the Calvin Klein Collection Emerging Star Spotlight Award, dressed in Calvin Klein Collection, of course.
Ms. Woodley received the award from actress Laura Dern, who was also wardrobed by Calvin Klein Collection for the evening.
At the gala night which was at the Four Seasons Beverly Hills Hotel in Los Angeles last Monday, October 21st, Calvin Klein Collection seemed to be the wardrobe of choice by many of the A-listers who attended. Honorees Reese Witherspoon, Naomie Harris, Shailene Woodley, Eva Marie Saint, and host for the night Andy Samberg wore Calvin Klein Collection for the evening. In addition, honoree Melissa McCarthy wore a Calvin Klein white label coat.
Calvin Klein Collection also wardrobed Lea Michele, Forest Whitaker, Laura Dern, Jessica Paré, Emilia Clarke, Brie Larson, Zoey Deutch, Gia Coppola, James Marsden, Joy Bryant and Rachel Zoe, as well as ELLE's Editor in Chief Robbie Myers, Creative Director Joe Zee and Fashion News Director Anne Slowey.
The women's looks were designed by Francisco Costa, the brand's Women's Creative Director, who was in attendance. The men's looks were designed by Italo Zucchelli, the brand's Men's Creative Director.
ELLE Magazine's November 2013 issue celebrates the event with seven covers featuring this year's honorees. Three of the covers feature Ms. Harris, Ms. Woodley and Ms. McCarthy wardrobed in Calvin Klein Collection, Calvin Klein Swimwear and Calvin Klein white label, respectively. Additionally, Ms. Harris and Ms. Woodley, along with Ms. Cruz, are each featured in the accompanying editorial spread in looks from Calvin Klein Collection.
The annual ELLE Women in Hollywood event honors Hollywood's best and brightest talent in celebration of women's achievements in film. This year's event features a diverse group of women who, through their achievements, have had a profound impact on the industry.
For additional information please visit ELLE.com.
Photos by Wire Image, courtesy of Calvin Klein Collection