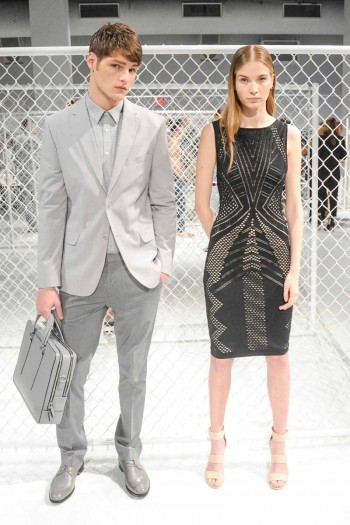 Athletic, graphic precision. Fast-forward Modernism. Presenting men's and women's Calvin Klein white label apparel, jeans, swimwear, and accessories lines for Spring 2014. A new perspective for the season rooted in an urban and sporty aesthetic met with a touch of nature.
Apparel. Energetic with ease and movement. Street and sophistication converge for a raw, modern and sexy, yet effortlessly cool moment.
The palette consists of off-white and black for her, and cloud greys for him – accented with striking tones of blue, from cobalt and sky to ocean. Micro and macro sporty textures inspire fabrics in cotton and synthetic blends for a high-performance feel. Simple, pull-on clothes that are ideal for a fast-paced life.
For women, a new all-knit way of dressing is introduced. An engineered pleated knit skirt is worn with a mesh chain link sweater in white with black underpinnings to create a subtle transparency. A black viscose stretch mesh drop needle stitched dress is like a second skin.
The sweatshirt also gets reinterpreted with a sweater back and sleeves, and a mini perforated PVC front. Laser perforated t shirts, dresses and skirts are the season's playful, yet sexy must-haves. Spring's athletic vibe manifests in dynamic clothes, like a long aqua jersey tank dress with nude mesh stripe side insets, layered with a blank tank.
Contrast underpinnings are styled throughout the line for a play on tank dressing. A white sleeveless jacket and black mesh sweater over a cobalt performancewear cropped tank, worn with a soft, fluid pant represents a modern take on the track suit. Soft, tencel running shorts are paired with an abstract print bomber jacket for a fresh, boyish look.
For men, high-octane color for suits and dress furnishings makes a bold statement. A stretch cotton sky blue suit worn in a relaxed, sporty way with layered t shirts and tanks takes the formality out, and brings the cool factor in.
A cobalt blue micro mesh cotton weave dress shirt styled with a complementing silk tie and sky blue cotton stretch pants presents a tonal sophistication. Graphic micro mesh printed cotton shirts and slim pants with an extra-long break make relaxed, easy staples. A cloud grey, macro piqué mesh cotton bomber worn with a Bedford cotton short with chambray turn-up embodies the height of the season.