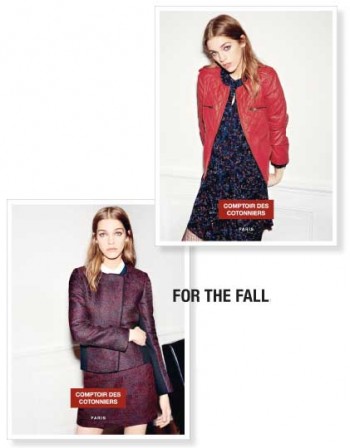 PARIS, Nov 1, 2013/ — A byword on French affordable luxury since 1995, Comptoir des Cotonniers has chosen to embody a new French girl for Fall/Winter 2013-14.
Upright, feminine, determined and often cheeky is the way Creative Director Amélie Gillier the new French girl for her very first collection for the label.
It's about urban cool, the 21st century French girl is sexy with a unique allure conveyed by a chic romantic, gypsy and rock mix.
FOR THE FALL, she goes for a «twist» style with a red biker jacket over a floral print dress or an easy chic look in a mini-skirted red tweed suit.
FOR WINTER, she expresses the new modern French elegance in a structured overcoat in mottled knit dual fabric or with a black graphic line suit.
Our city girl sets the trend for the season with complete freedom. Liberated, she spontaneously combines catlike grace with a chic and authentic style.