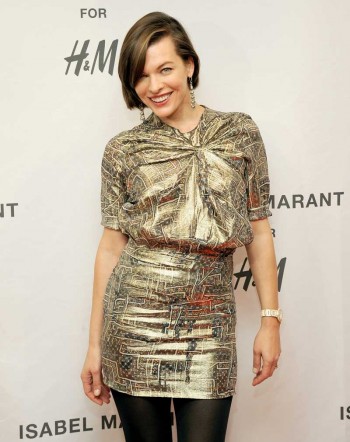 NEW YORK, Nov 13, 2013/ — Last night, at H&M Fifth Avenue flagship store, actress Milla Jovovich hosted a private pre-shopping event for the launch of Isabel Marant for H&M collection.
Milla, who is the face of the Isabel Marant for H&M ad campaign, welcomed close to 1,000 guests to the event, including fashion influencers and celebrities such as Molly Sims, Rebecca Minkoff, Nicky Hilton, Pamela Love, Chiara Ferragni, Samantha Mathis and Charlotte Ronson.
Attendees waited in line to be the first in New York City to shop the coveted collection while enjoying passed hors d'oeuvres and music spun by DJs Hannah Bronfman and Mike Nouveau.
Milla Jovovich upheld her status as a style icon by looking stunning in an Isabel Marant for H&M silk lame printed dress ($129.00), silver embellished pumps ($199.00), and earrings ($24.95).
The private pre-shopping event was held in anticipation of the launch of the Isabel Marant for H&M collection in stores and online on November 14th. The Isabel Marant for H&M collection will be available at 8:00 a.m. in 44 stores across the U.S. and at 12:00 p.m. EST online.
New Yorkers who did not attend the private pre-shopping event will still have the chance to be the first to shop the collection during the H&M store opening in Times Square on November 14th. H&M at Times Square will be the first store worldwide to debut the Isabel Marant for H&M collection to the public beginning at 1:00 a.m on November 14th.
The Isabel Marant for H&M collection is an influential take on Parisian chic that mixes urban attitude with boho elegance. The collection will deliver must-have pieces for women and kids, as well as Isabel Marant's first-ever collection for men.