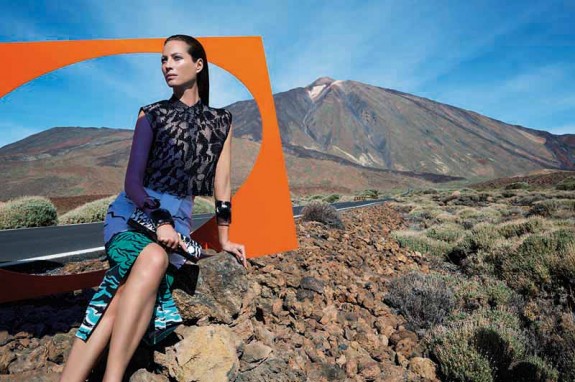 MILAN, Dec 20, 2013/ — Supermodel Christy Turlington Burns stars in the upcoming Missoni Summer 2014 campaign. Shot in Tenerife by Dutch artist Viviane Sassen, the images are set against the backdrop of a red rocky and torrid landscape softened by the uniform endless blue of a perfectly windswept sky.
In a business where youth is worshipped and getting old is the kiss of death, Christy Turlington Burns at 44 will be considered over the hill. But here she is, eminent but ever up-to-date, unmistakable and utterly sophisticated. Turlington-Burns perfectly interprets the timeless, iconic quality of Missoni fashion, summarizing the key features of this Summer collection.
For Missoni, Summer 2014 is a collection that articulates graphic lines, designer fringes and archival logo prints with pop landscapes and references to the alchemical elements of nature, revisiting and reinventing the extraordinary exotic elegance of women in saris and sarongs.
Dutch artist and photographer Viviane Sassen saw the "classic" as model and clothing merged. The archetypal billboard look and feel were captured in digital format, ready for consumption of 21st century denizens.
Sassen made the body's attitude interact with large Plexiglass elements which gave the past an indefinable and uncommon futuristic quality. And by adding her unmistakable and instantly recognizable features to every garment and picture in this campaign, Christy highlighted the iconic, timeless attitude of Missoni fashions.
Featured by model Vincent Lacrocq, the men's collection too has been turned by Sassen in a multifaceted sequence of portraits, taken against more neutral backgrounds and emphasizing the details of each photographed outfit.