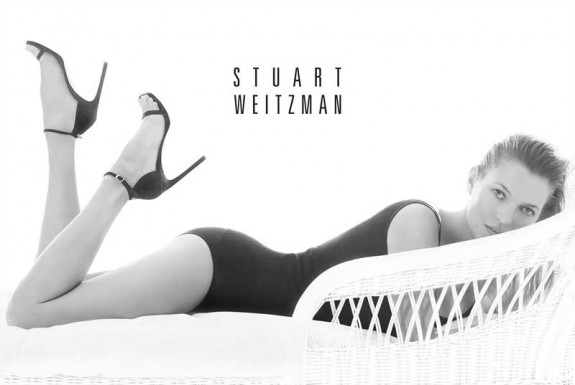 NEW YORK, Dec 17, 2013/ — Recently honored by the British Fashion Council for stellar 25-year career in fashion, Kate Moss proves once again with the upcoming Stuart Weitzman's Spring 2014 advertising campaign while she has been dubbed as the "fashion icon of her generation."
Elegance undone, imbued with unmistakable sex appeal, inspired by the feeling of freedom and the warmth of the sun, Kate Moss strips down, literally and figuratively, in Stuart Weitzman's Spring 2014 ad campaign to reveal the definitive essence of effortless summer style.
Minimal make-up, wet hair and barely-there cover-ups enhance this laid-back, luxe Bohemian look. It provides a glimpse of Kate Moss at her most beautiful. Sublime simplicity.
And while Kate Moss is the headliner, it is THE NUDIST, Stuart Weitzman's latest offering. Sexy, strappy, sleek, and minimal – this sandal is as close to bare as a fashionable foot can get.
Photographed again by Mario Testino, in keeping with what is now an iconic visual vocabulary, the campaign invokes a sun-kissed and sensual energy, hinting at long, languid days in St. Tropez, with luxury footwear that seduce from day to night.
The international advertising campaign will launch in the United States, Italy, France, England, Canada, Dubai, Germany, Spain and Asia. Outdoor advertising (billboards and kiosks) will run in Los Angeles, New York, Miami, Milan, Paris and Hong Kong.
Behind-the-scenes video and additional creative content will be featured on www.stuartweitzman.com and in Stuart Weitzman boutiques worldwide.