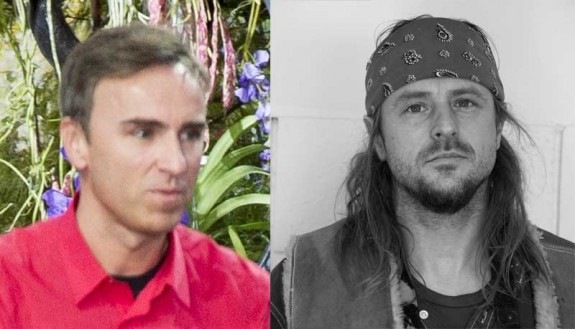 PARIS, Dec 16, 2013/ — To fashionistas, Raf Simons needs no introduction. Currently the Creative Director of Christian Dior, Raf Simons took Paris by storm in 1995 with his innovative menswear collection. And the rest is fashion history.
American-born artist Sterling Ruby is known for his mastery of a large variety of media including ceramics, painting, collage and video. Proclaimed as one of the most interesting artists to emerge in the twentieth century by New York Times art critic Roberta Smith, Ruby's work examines the psychological space where individual expression confronts social constraint.
Simons and Ruby has a long history of collaborative work beginning in 2008 when Sterling Ruby designed the interior of Raf Simons' Tokyo store, using images of bleached fabric to create a splattered wallpaper that covered its walls and ceilings.
In 2009, Simons used denim bleached by the artist to create a collection of denim wear jeans and jackets.
In 2012, Simons created satin fabrics with images of four of Sterling Ruby's recent paintings. Raf Simons created three dresses and a coat from these fabrics. They were presented as part of Raf Simons' debut haute couture collection for Dior.
And in January 2014, these two prolific creators will once again collaborate; this time to present a one-off collection – "Raf Simons/Sterling Ruby" which will be presented during the Paris Menswear Ready-to-wear collections in lieu of the "Raf Simons" menswear collection.
Slated to be unveiled on Wednesday 15th January 2014, the "Raf Simons/Sterling Ruby" label will be for one season only and will be offered at later.
This unique collection, born from a long standing friendship and mutual admiration and the desire by both men to experience a creative process together, will translate into a complete men's wardrobe that will combine the aggressive formal aesthetics of artist Sterling Ruby with Raf Simons constant search for innovation in men's fashion.
[MARI DAVIS]