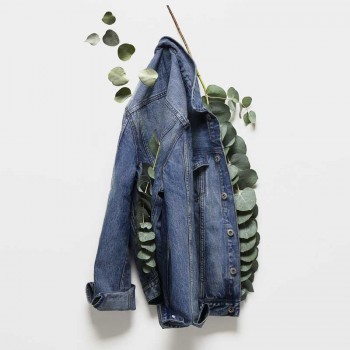 NEW YORK, Jan 18, 2014/ — "Something old, something new, something borrowed, something blue…" This phrase is usually for a bride. Yet, this is the first thing that came to mind when H&M announced that it is launching five classic denim pieces made of recycled fibers from items collected from their Garment Collecting Initiative.
"The trend is moving more and more towards working with recycled fabrics and as a designer you of course want to work with the latest trends and developments." says Jon Loman, the concept designer who worked with the recycled denim fabric.
"It feels good to do something that both we and our customers believe in and that benefits the environment"
The goal is to use more and more post-consumer recycled materials. The new jeans collection contains 20% recycled cotton, which is the maximum amount that can be used today when making new fabric without compromising the quality.
H&M launched the Garment Collecting Initiative in the beginning of 2013, with the aim to reduce the environmental impact from the fashion industry by limiting the amount of textiles that end up in landfills. Today there is only a small amount of clothing being reused for charity or for recycling.
H&M's Garment Collecting program offers an easy solution to avoid old clothes ending up in landfills, by encouraging their customers to bring in their old clothes to be recycled. The initiative is foremost an environmental project, a short term vision to minimize waste and landfill surplus.
The long term goal is to find a solution for reusing and recycling all textile fibers for new use. Any proceeds from the garment collecting project will be donated to the H&M Conscious Foundation. The money will be earmarked for investments in innovation projects for closing the loop on textiles.
The five classic denim pieces which are available beginning February 2014 are made from recycled cotton and are the perfect example of H&M's dedication to sustainability and closing the loop on textiles.