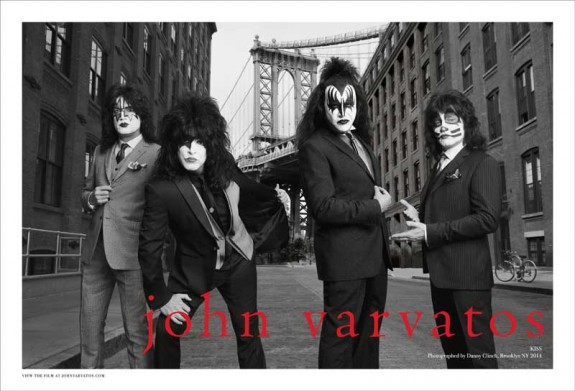 NEW YORK, Jan 12, 2014/ — Fresh on the heels of their induction into the Rock and Roll Hall of Fame, KISS is once again on the headlines, but not on Billboard but in Fashion Avenue with John Varvatos featuring the famed band in his new Spring 2014 advertising campaign.
Inspired by KISS' notorious album, "Dressed to Kill", John Varvatos commented, "Over the years in our iconic music campaigns we have chosen artists that are ground breaking and innovative. This season I was inspired by those qualities, but also one other: the idea that every man at some point wants to be a super hero. KISS is that and more for me. They have broken every rule possible, enduring like no other band in music history while transcending every generation. Their super hero personas are timeless."
Yesterday, the "Dressed to Kill" campaign broke with the debut of the accompanying short film by Danny Clinch on www.JohnVarvatos.com . Coincidentally, the John Varvatos Men Fall 2014 was held in Milan at the same time, collection also inspired by KISS.
And for the finale, all four members of the band took their bow with John Varvatos.
Photos courtesy of John Varvatos