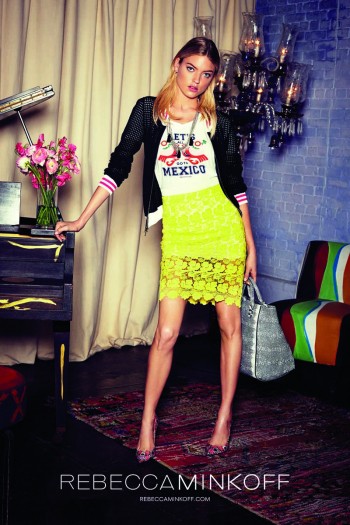 NEW YORK, Jan 21, 2014/ — Martha Hunt took center stage today with the release of the Rebecca Minkoff Spring 2014 campaign images.
Shot by photographer Dan Martensen, Martha Hunt's youthful nonchalance was captured in a series of images that featured the Rebecca Minkoff Spring 2014 apparel and accessories collection.
Martha's hair was done by Yoichi, (Art Department) and make-up by Chiho (Frank Reps).
Founded by San Diego-born designer Rebecca Minkoff founded her company in 2001 after she developed a small apparel line, the Rebecca Minkoff label has grown leaps and bounds with the release of "Morning After Bag" in 2005.
The bag became an overnight sensation and Rebecca began solely concentrating on developing additional styles to build out her romantically themed day-to-night handbag collection.
After four years of consistent growth in accessories under her belt, Rebecca returned to her original love of apparel design and introduced a ready-to-wear collection in 2009. Rebecca Minkoff's designs are a favorite for modern, trend-setting everyday women and celebrities alike.