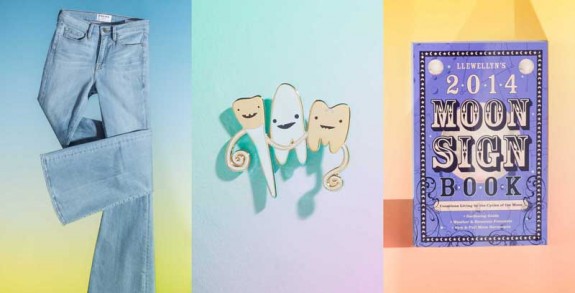 DALLAS, Jan 8, 2014/ — A store within a store, the "New Beginnings" pop-up shop is Nordstrom's brick and click answer for its customers to realize their needs for their 2014 resolutions.
The third installment of the Pop-In@Nordstrom series, the "New Beginnings" pop-up shop will open on January 10th in eight Nordstrom stores (Seattle, WA, Bellevue Square, WA, NorthPark Center, TX, San Francisco Centre, CA, Tysons Corner Center, VA, Oakbrook, IL, Garden State Plaza, NJ, King of Prussia, PA) and at Nordstrom.com (www.nordstrom.com/pop)
"New Beginnings" will include a FRAME Denim mini-shop, featuring the 'Forever Karlie' jean, a style made in collaboration with model Karlie Kloss, in exclusive washes as well as new categories from the denim brand including jackets, shirts and sweatshirts found exclusively at Nordstrom.
Additional merchandise includes KORA Organics by Miranda Kerr (marking the brand's first launch at a major retailer), a new Tabitha Simmons boot, the retrospective album 'Pretty Much Everything' of photographers Inez van Lamsweerde & Vinoodh Matadin, KARA handbags from designer Sarah Law, Unearthen jewelry from designer Gia Bahm crafted from crystals and bullet casings, Manic Panic hair dye, lashes and other beauty products, Ninja® Professional Blender, the Fujifilm Instax mini 90 Neo Classic Instant Film Camera, Jawbone UP wristbands, MICHI, an edgy and utilitarian active wear, VFiles sweatshirts, astrology books, and more.
Customers will have the exclusive opportunity to book a session for a private astrology reading by astrologers The Astro Twins, identical twin sisters Tali and Ophira Edut, who have over 15 years experience in astrology, publishing and coaching.
'New Beginnings' will also host customer events and public appearances in select stores to celebrate the launch of the Pop-In shop.
Nordstrom NorthPark Center will host an opening event on January 11 from 2-4 pm, and customers will have the chance to win a special gift from The Astro Twins.
Launched in October 2013, Pop-In @Nordstrom is a series of pop-up shops featuring a fresh personality and new batch of exclusive merchandise every four-to-five weeks. The shops are the brainchild of Olivia Kim, the Director of Creative Projects at Nordstrom, who hand-picks merchandise spanning the high/low range to match each new theme.