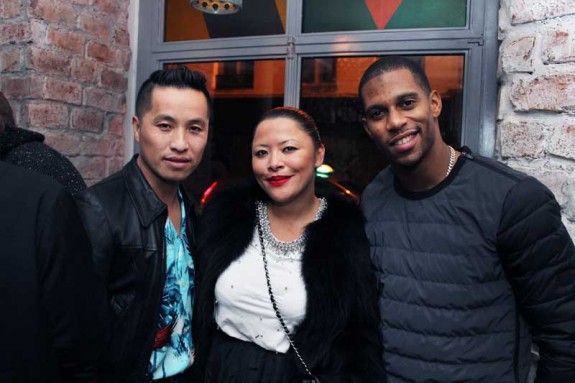 PARIS, Jan 17, 2014/ — After a successful showing of the 3.1 Phillip Lim menswear collection at the Palais de Beaux Arts in the morning, Linda Farrow's Creative Director Tracy Sedino and Phillip Lim hosted an intimate dinner at Mary Celeste, Paris to celebrate the newly formed partnership 3.1 Phillip Lim by Linda Farrow Gallery. The Autumn-Winter 2014 collection debuted earlier in the day at the 3.1 Phillip Lim menswear show.
Linda Farrow launched their partnership for production and distribution of the 3.1 Phillip Lim Men's and Women's eyewear collections with the Spring-Summer 2014 collections.
The collection is focused on unique construction: shield lenses are placed on top of the frame, a gradiated lens obsureing the edges of the frame.
Nature-inspired colours like cloud, lichen and vapour are juxtaposed onto classic aviators and d-frames.
Notable attendees included: Tracy Sedino, Phillip Lim, Victor Cruz, Daisy de Villeneuve, Mimi Xu, Elizabeth von Guttman, Tina Leung.
Photos courtesy of Linda Farrow