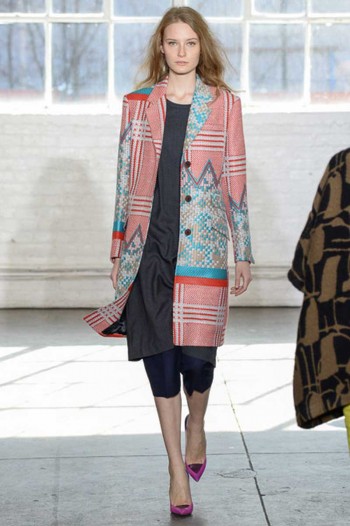 NEW YORK, Feb 22, 2014/ — Launching their womenswear line during New York Fashion Week, Duckie Brown got a leg up from a friend, Ruthie Davis.
One of few American female luxury shoe designers, Ruthie Davis collaborated with avant-garde designers Steven Cox and Daniel Silver to create and launch the Ruthie Davis (Heart) Duckie Brown collection.
Described as a culmination of Davis' high-impact, eye-catching aesthetic and Duckie Brown's celebrated ability to blend whimsical sportswear with elegant tailoring, Ruthie Davis (Heart) Duckie Brown shoe collection is immediately caught the eye of fashionistas as it hit the runway on February 6th.
The line features two styles of sleek, color-blocked pumps in bold jewel tones including navy, fuschia, magenta and olive hues. Rich, saturated leathers in unexpected color combinations are juxtaposed against Davis's high-shine rose and yellow gold signature architectural heels.
"I've been a fan of Daniel and Steven's work for a long time. While they are taking what they are known for in menswear and bringing it to their women's collection, it also has its own unique voice. I think that the Duckie Brown aesthetic is a really interesting fit for my shoes," says Ruthie Davis.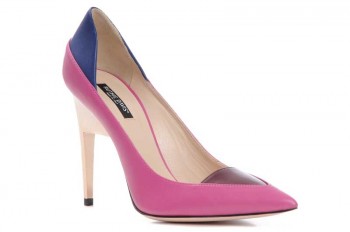 "We've teamed up with Ruthie Davis who does the most amazing shoes. Our inspiration for the shoes to go with Duckie Brown Women's is the playfulness of children's toys," say Duckie Brown designers, Daniel Silver and Steven Cox.
The Ruthie Davis (Heart) Duckie Brown collection retails for $698 and will be available on www.ruthiedavis.com in August 2014.
[MARI DAVIS]
Photos courtesy of Duckie Brown and Ruthie Davis