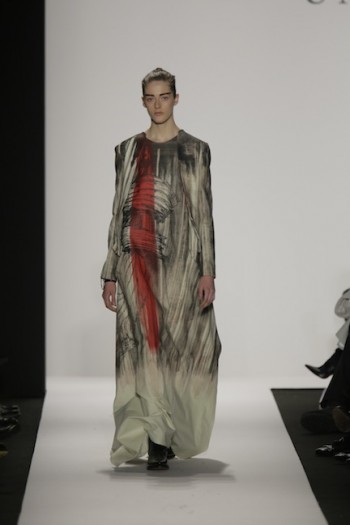 Flora Cervantes, M.F.A. Fashion Design, collaborated with Lori Solem, M.F.A Fashion and Textile Design, on a Fall 201 collection constructed from canvas, cotton, wool, and latex.
Flora grew up in Warwick, NY, and holds a B.A. in International Political Economy and Business Administration and an A.F.A in Fashion Design. Flora drew inspiration from the environment, in twisted shapes found in nature, and in the way human emotions are bent and gnarled by life experiences.
Lori hails from Sumas, WA where she earned a B.A. in Interdisciplinary Studies with an emphasis on Fashion Design, Sustainability, and Social Accountability. Lori was inspired by gritty industrial textures and illustrations of the French artist Gustave Doré.
Photos by Randy Brooke