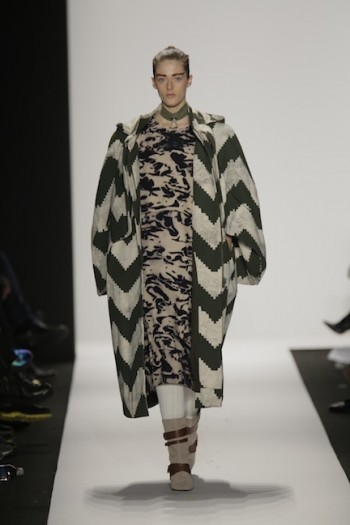 Mingyu Du, M.F.A. Fashion Design, collaborated with Joseph Khawane, M.F.A. Textile Design, on a womenswear collection made of unique fabrics including army tent and parachute materials, wool blankets, and cotton canvas.
They were inspired by the mod fashions of the 1960s as well as the attitude and freedom of the youth from that period.
Originally from Qinhdao, China, Mingyu earned a B.F.A. in Fine Art and Calligraphy and won the National Dragon Cup Painting Calligraphy Competition in Beijing, China.
Joseph was born in Fairfax, VA, and grew up in Baltimore, MD. After earning his B.F.A. in Fashion Design, he worked on theatre set and costume design, as well as millinery production. His design internship with Aysha Saeed in NYC inspired him to pursue his M.F.A. degree at Academy of Art University. He drew inspiration from Ghanaian sculptor El Anatsui and Syrian contemporary artist Diana Al-Hadid.
Photos by Randy Brooke