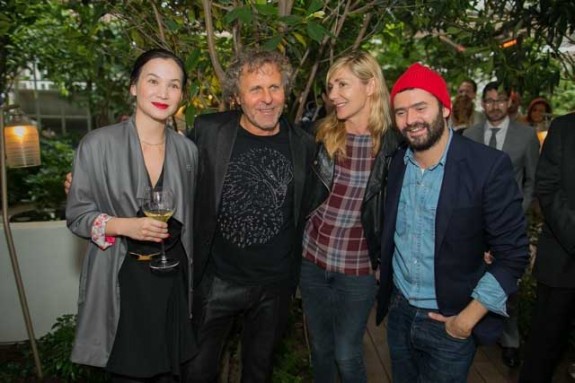 PARIS, Mar 27, 2014/ — Founded in 1989 by Nathalie Dufour, under the initiative of the French ministry of Culture and the DEFI, ANDAM (National Association for the Development of the Fashion Arts) seeks, in the words of its president M. Pierre Bergé, "to identify and support, through its awards, the emerging talents of contemporary designers and assure the role of Paris as a key fashion capital."
For its 2014 edition, ANDAM welcome in its jury 7 new members :
JOHN DEMSEY Group President Estee Lauder Companies Inc
CAROLINE DE MAIGRET model
STEFANO MARTINETTO CEO Tomorrow London Ltd
FRANÇOIS-HENRI PINAULT CEO Kering
XAVIER ROMATET CEO Condé Nast France
ANNE-SOPHIE VON CLAER Le Figaro
ELLEN VON UNWERTH photographer
Made up of ANDAM's private and corporate sponsors and fashion professionals known for their outstanding expertise, the jury for the 2014 ANDAM Fashion Award will choose, based on the applications received, and announce the 2014 finalists at the beginning of May.
ON JULY THE 3RD, the finalists will present their work to the panel of experts which will select the two fellowship winners depending on the quality of their creative and business projects. Candidates can be either French residents or foreign nationals who plan to develop their operations in France starting in 2014.
ANDAM SPONSORS
FRANCESCA BELLETTINI – CEO, representing the house of Yves Saint Laurent
PIERRE BERGÉ – representing the Pierre Bergé – Yves Saint Laurent Foundation
SOPHIE DELAFONTAINE – creative director, representing the House of Longchamp
JOHN DEMSEY – Group President, The Estee Lauder Companies Inc, representing M•A•C Cosmetics
GUILLAUME HOUZÉ – group's communication and image director, representing Galeries Lafayette
FEDERICO MARCHETTI – founder and CEO of YOOX Group, representing thecorner.com
STEFANO MARTINETTO – CEO, representing Tomorrow London Ltd
EDDIE MULLON – CEO, representing FASHION GPS
FRANÇOIS-HENRI PINAULT – CEO, representing Kering Group
RENZO ROSSO – president, representing OTB
PIERRE-YVES ROUSSEL – Chairman and CEO LVMH Fashion Group, representing LVMH
NADJA SWAROVSKI – member of the executive board , representing Swarovski
SUZANNE TIMMINS – SVP and fashion director, representing Hudson's Bay Company
INSTITUTIONAL PARTNERS
MINISTRY OF CULTURE AND COMMUNICATION – representing by Pierre Oudart, director in charge of the plastic arts
DEFI – representing by Clarisse Reille, managing director
FASHION PROFESSIONALS
SARAH ANDELMAN –

Creative director, Colette

ANGELICA CHEUNG – editor in chief, Vogue China
NATHALIE DUFOUR – founder and managing director, ANDAM
PAMELA GOLBIN – head curator, Musée des Arts Décoratifs
CAROLINE DE MAIGRET – model
NICOLE PHELPS –

Executive editor

, style.com

JEAN-JACQUES PICART – fashion and luxury products consultant
XAVIER ROMATET – CEO, Condé Nast France
ANNE-SOPHIE VON CLEAR –

Deputy director, Le Figaro

ELLEN VON UNWERTH – photographer