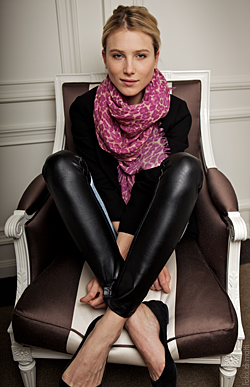 NEW YORK, March 24, 2014 /— On March 10th, Cole Haan announced a multiyear partnership with Dree Hemingway, who will make her debut for the brand in its Fall 2014 advertising campaign. In addition to her collaboration on and appearance in advertising, Cole Haan and Dree Hemingway will co-create a pinnacle collection of women's footwear and handbags.
"Dree is timeless and individualistic. Her curiosity and creativity are infectious. She is the perfect muse for the times. I am delighted to be working with her to create accessories that capture her beauty and grace," said Cole Haan Global Creative Director Walker MacWilliam.
As a Global Ambassador for the Cole Haan brand, Ms. Hemingway's image and personality will help support the company's aggressive international expansion plans.
Cole Haan is accelerating its presence in Hong Kong, Japan and the Middle East and expanding into the countries of China, South Korea and Mexico in Fall 2014. Dree embodies an unmistakably American spirit; she will connect the Cole Haan brand with new consumers in America and across the globe.
"Cole Haan is an iconic American brand with a rich heritage of classic pieces for everyday. I'm excited to bring my personal aesthetic, mind and ideas to this partnership and to be actively involved in the creative process. I really look forward to working with Walker and to bring my quirky personal style to this project while discovering new ideas together," said Dree Hemingway.
Dree Hemingway grew up in Sun Valley, Idaho and Los Angeles. She began her modeling career in Paris in early 2009 after studying at the London Royal Academy of Dramatic Art.
Since moving back to the United States, where she joined up with DNA Model Management, Dree has been featured in numerous campaigns, collaborating with many of the world's foremost photographers. Increasingly, she has appeared in editorial photographic exposes, which have been accompanied by stories about this remarkable young woman.
Harper's Bazaar UK called her "A Woman of Substance" in its October 2013 issue. The October 10, 2013, issue of The Wall Street Journal Magazine, in describing her "Blithe Spirit," said "Actress and model Dree Hemingway embodies all-American casual glamour."
She has appeared in editorial features for the American, French, Italian, British, Chinese and Japanese editions of Vogue, as well as W Magazine, V Magazine and Interview magazine.
The up and coming actress is the great-granddaughter of the American literary icon Ernest Hemingway and daughter of acclaimed actress, Mariel Hemingway. In addition to her breakout performance in the 2012 Sean Baker movie Starlet, Dree has recently completed filming on Noah Baumbach's forthcoming While We're Young starring Ben Stiller and Amanda Seyfried and Alex Perry's Listen Up, Philip, due out in 2015, starring Jason Schwartzman and Elizabeth Moss.