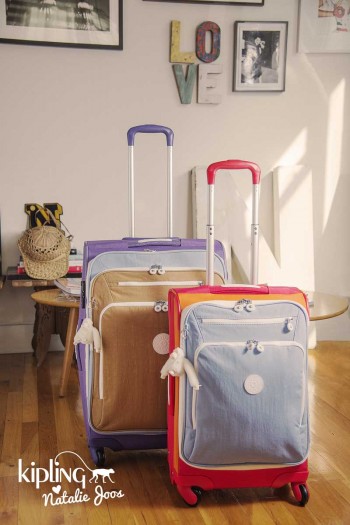 From Paris to New York via a special place called Belgium, Kipling's birthplace, no Influencer has quite captured the hearts of fashion fans like fellow Belgian, Natalie Joos. She is the writing sensation of the fashion site "Tales of Endearment" and one of the stylish women of the moment.
A Kipling fan through and through, whom better than this sparkly lady to create a little monkey business for our travel collection? A woman with Natalie's fashion credentials requires luggage that can get her from A to B without sacrificing on style at the security gate.
"Natalie Joos lives colorfully and with an approach to exploration through style and travel that is fun, inspiring and all her own. This embodies the quintessential Kipling gal! We couldn't be more thrilled about her partnership and capsule collection for summer travel," says Julie Dimperio, President of Kipling North America.
Combining Kipling's years of expertise in luggage innovation and Natalie's Technicolor lifestyle, Kipling presents the perfect travel set for the woman on the move: a compact toiletry bag, a weekend shoulder bag and two trolley sizes.
"Today I am traveling all around the world, and I need good luggage. It should be strong but light, classic but unique, simple but practical. I designed these travel sets for Kipling with all that in mind and gave the tradition of Kipling the Joosy touch!" says Natalie Joos.
Inspired by the vintage color schemes that Natalie adores, each bag comes in a few color-blocking combinations. Natalie also created a signature Joosy periwinkle blue, a lining with a pink palm tree print and a personalized monochrome white monkey.
A world famous trendsetter like Natalie Joos doesn't adhere to trends, "I just do my thing," she says and keeps her brand new bag collaboration a perfect sync with Kipling's own persistent pledge for freedom. A touch of Joosy style can now be on everyone's travel agenda this summer.
Available in Kipling stores and at Kipling-USA.com starting June 2014.