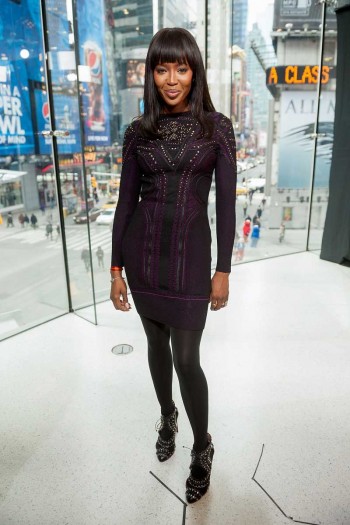 NEW YORK, Mar 12, 2014/ — Naomi Campbell is once again on center stage. Spotted last Wednesday, March 5th at "Extra" where she wore a Roberto Cavalli dress, the supermodel will once again be on the hot seat as sits down for an intimate Q&A session with a select group of listeners, moderated by Diane von Furstenberg, for the SiriusXM "Town Hall" series.
"SiriusXM's Town Hall with Naomi Campbell," will feature Campbell answering fan questions about her career, including her philanthropic efforts and the second season of The Face, which premiered on March 5 on Oxygen.
"In the world of fashion and beyond, few people define legend like Diane and Naomi. Connecting these two icons with their biggest fans in such a uniquely personal and intimate way as part of a SiriusXM Town Hall is sure to create can't-miss radio and a one-of-a-kind experience for our subscribers," said Scott Greenstein, President and Chief Content Officer, SiriusXM.
"SiriusXM's Town Hall with Naomi Campbell" will air on Friday, March 21 at 11:00 am ET on SiriusXM Stars, via satellite, channel 106 and through the SiriusXM Internet Radio App on smartphones and other connected devices, as well as online at siriusxm.com.
For rebroadcast times, please visit www.siriusxm.com/townhall.