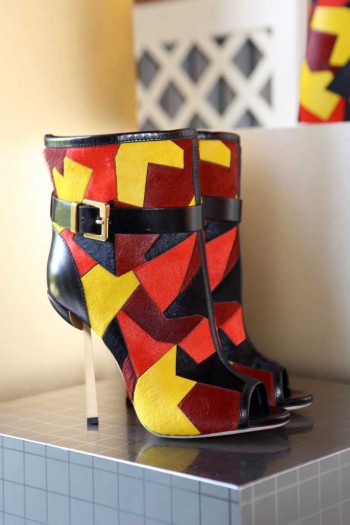 MILAN, Mar 20, 2014/ — For the Sergio Rossi Spring 2014 collection, Angelo Ruggeri, the label's Collections and Design Director, applied to the eclecticism of the early 1970s to the signature style of the brand then refined it to the artisan tradition that Sergio Rossi known for.
A symbol of this exercise in style is the season's new pyramid-shaped stiletto that blends curved lines and striking geometric shapes, cleverly using contrasts to create balance and harmony.
The collection has two universal themes inspired by the versatile aesthetic of those years: the organic world with its rich variety of elements and the kaleidoscope as a filter that creates amazing shapes and reflections.
Natural elements are bamboo, which is used for sculptural sandals with contrasting metallic details, and giraffe or zebra-print gladiator-style sandal boots made of stingray leather.
Also evoking nature are the animal prints renewed in an optical illusion created by luxurious soutage embellishments or the abstract version of a camo patchwork in pony skin leather inspired by a famous creation of Giò Ponti and made with a skillful intarsia technique.
The kaleidoscope is the idea behind the vibrant color combinations similar to those in the works of Russian painter Sergei Poliakoff or the playful blends of patterns that pay tribute to the world of interior designer David Hicks and are reproduced on a more natural "Vienna straw" woven material.
The same light is reflected and rearranged into original geometric shapes in 3D jacquard macro-print suede sandals or it shines in the tiny jewel embellishments used for dressy evening shoes that cover the foot with dazzling sparkles.
The sandal with fougère 'climbing vines' made of shaded rhinestone pavé that surround the ankle and are suspended without any support is a conceptual synthesis of the two inspiring themes and the maximum expression of the brand's artisan skill and expertise.