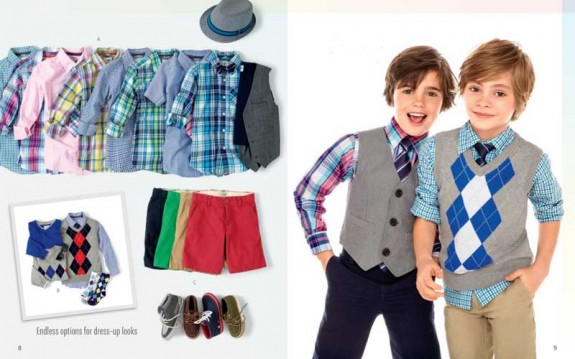 "Mini Me" was great at Austin Powers, but current zeitgeist had made it into "Mini Men" when it comes to young boys. They might be "like father, like son" but they are also looking for individuality. And clothes are their first recourse when boys first show their independence.
And Spring 2014 is the perfect season for a young boy to exert his budding individual style. At Children's Place, new looks are sprouting out. A mix of plaids, classics and sporty actives with cool new twists are in store for boys.
To play dress up, these mini men find themselves starting with a buttondown shirt in color or plaid! Add a vest, cool chinos and shoes.
With March Madness at fever pitch, The Children's Place is a good place to find licensed tees and camo prints and graphics. Guess what, they can be paired with denim. Going sporty, the TCP active line features mesh pants, shorts, graphic hoodies and sporty tees!