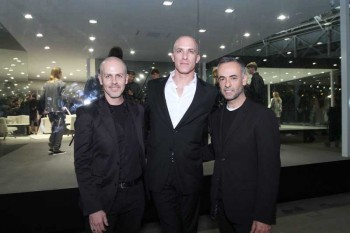 NEW YORK and SINGAPORE, Apr 12, 2014/ — In an invitation-only event held last night in Singapore, Calvin Klein, Inc., celebrated its expansion in Asia with a one-of-a-kind architectural installation.
Special guests in attendance included actors Dakota Johnson, Ziyi Zhang, Louis Koo, Ryeo Won Jung and Jordan Masterson; bloggers Tina Leung, Irene Kim and Hanneli Mustaparta, who is also a contributor to Calvin Klein's official social media platforms – all of whom were wardrobed by Calvin Klein Collection.
Musician and actor Alex To & Ice Lee, as well as stylist Alvin Goh, were also in attendance and wardrobed by Calvin Klein platinum label. During the event, guests enjoyed musical performances by The Misshapes' DJ Leigh Lezark and DJ Geordon Nicol, who both wore Calvin Klein Collection.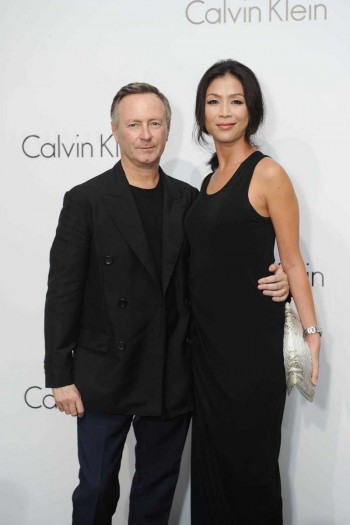 Other notables in attendance included Allan Wu, Dick Lee, Wong Li Lin, Shane Pow, Russel Wong, Clarence Lim, Grace Chng, Fiona Ang, Carmen Ow, Ow Pui Yee, Dr. Georgia Lee, Tan Min Li, Dana Cheong, Chiang Yu Lan, Diana Widjaya, Belinda Chua, Celina Lin, Tracy Phillips and Yo Yo Cao.
Hosts of the special evening included the company's Creative Directors – Francisco Costa (women's Calvin Klein Collection), Italo Zucchelli (men's Calvin Klein Collection), Kevin Carrigan (Calvin Klein platinum label, Calvin Klein Jeans and Calvin Klein Underwear), Ulrich Grimm (Calvin Klein Shoes & Accessories), and Amy Mellen (Calvin Klein Home) – as well as Calvin Klein, Inc.'s Chief Executive Officer, Tom Murry, who was also on hand at the event.
For the one-night-only occasion, Calvin Klein, Inc. presented a unique concept house, designed by renowned American architect Joshua Prince-Ramus, uniting many of the company's different labels and product categories under one roof.
Celebrated for his eloquent, intelligent designs, Mr. Prince-Ramus is the Principal of REX, an internationally acclaimed architecture and design firm based in New York City.
Mr. Prince-Ramus is widely known as the architect behind the renowned Seattle Central Library—which has been hailed as a masterpiece of contemporary culture—and was credited as one of the "5 Greatest Architects Under 50" by The Huffington Post.
He previously collaborated with the Calvin Klein Collection brand in 2008, to create a futuristic concept home, entitled "Madison Avenue (Doll) House," that served as the centerpiece of the annual holiday window display featured in the brand's Madison Avenue global flagship store in New York City.
The installation spoke to the needs of modern, urban living, while addressing the use and importance of space.
Singapore was selected as the location for this event to celebrate the company's continued global expansion, especially within Asia, and to mark the opening of four new Calvin Klein Collection stores in Southeast Asia this year in with our long term licensee Club 21.
The new Calvin Klein Collection stores opening in the region began in Singapore (The Shoppes at Marina Bay Sands, April 8th) and Hong Kong (Elements, April 9th) with two additional stores to open in Malaysia (Pavilion Kuala Lumpur, July) and Bangkok (Central Embassy, Fall 2014).
EDITORIAL CREDITS: Calvin Klein Collection, Calvin Klein platinum label, Calvin Klein Jeans, Calvin Klein Underwear
IMAGE CREDITS: © 2014 Moky Mok, Jacky Ho, Victor Ng, Anton Chia, Tom White Photography