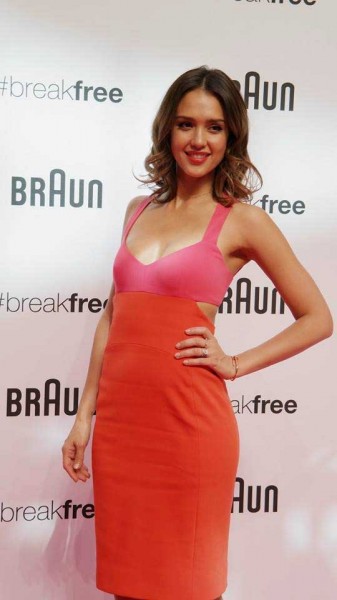 DALLAS, Apr 5, 2014/ — From Los Angeles, Berlin and Malaga, Spain, our roving cameras found Jessica Alba, Michelle Williams, Lea Michele, Elena Anaya, Goya Toledo.
JESSICA ALBA was spotted wearing NARCISO RODRIGUEZ to the launch of Braun's "Break Free Campaign" on Thursday, March 27, 2014 in Berlin, Germany. She is wearing a custom pink and red crepe dress.
Singer, Michelle Williams, wore the crow print wrap jacket from SKINGRAFT's Fall/Winter 2014 collection to several press appearances in New York City including – including OK! TV on April 1st, 2014, and Micah Jesse on April 2nd, 2014.
In Los Angeles, Lea Michele attended the 2014 Kid's Choice Awards wearing an Azalea lace and organza cocktail dress with thin straps, from the ELIE SAAB Spring-Summer 2014 Ready-to-wear collection on 29 March 2014
Across the North American continent and the Atlantic ocean in Malaga, Spain on 29th March 2014 Elena Anaya attended the 17th Malaga Film Festival closing ceremony wearing a black and wine-red dégradé velvet cocktail dress with an asymmetrical split and suede wine-red high heel ankle boots from the ELIE SAAB Autumn-Winter 2014/15 Ready-to-wear collection.
Meanwhile, Goya Toledo attended the 17th Malaga Film Festival closing ceremony wearing a white lace long-sleeved gown with embroidered lace guipure panels, from the ELIE SAAB Haute Couture Spring-Summer 2013 collection. She accessorized her outfit with a black resin and golden metal clutch.
Photos courtesy of Narciso Rodriguez, Skingraft and Elie Saab