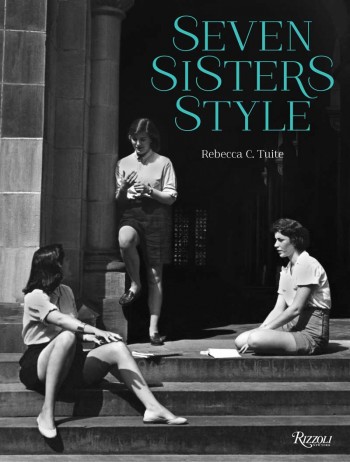 Seven Sisters Style – the current zeitgeist had forgotten the term. Yet, its influence endures.  "The Seven Sisters is responsible for generating trends in American casual sportswear" that gave rise to the present-day masculine-inspired silhouettes to the current daywear separates.
Where did the term Seven Sisters come from? Was a Seven Sisters girl an East Coast Ivy Leaguer? Was she a geek or a goddess? Was she radical or conservative? Was she a tomboy? Was she an American princess? In many ways, she was all of these things and so much more.
All of these questions are answered in Rebecca C. Tuite's new book – Seven Sisters Style: The All-American Preppy Look
The term "Seven Sisters" came from the Seven Sisters Colleges – Barnard, Bryn Mawr, Mount Holyoke, Radcliffe, Smith, Vassar, and Wellesley.
And, the book SEVEN SISTERS STYLE celebrates the all-American preppy style pioneered by the women of the Seven Sisters Colleges, and its twentieth-century evolution, from its on-campus foundations and creation of a collegiate "uniform," to its enduring legacy which can be summarized with the phrase "From Barnard to Bergdorf."
The style developed by the Seven Sisters—a prestigious group of American colleges whose members include such fashion icons as Katharine Hepburn, Jacqueline Bouvier Kennedy, Ali MacGraw, and Meryl Streep— made preppy clothes de rigueur for young women everywhere, heralding a new brand of American grace.
Elite and prestigious, Seven Sisters Style is synonymous with a collective sheen of exclusivity, intelligence, and a way of dressing that would become a marker of national pride and status all over the world.
Responsible for popularizing everything from casual jeans, baggy shirts, bermuda shorts, blazers, soft
Shetland sweaters and saddle shoes, to sleek suiting, kidskin gloves, crinolines, kitten heels and cashmere; the women of the Seven Sisters perfected a flair that spoke to a splendidly aspirational lifestyle, filled with education, travel and excitement.
SEVEN SISTERS STYLE celebrates a timeless and internationally ubiquitous look—seen on and off the runway, in Hollywood, and in popular culture—that continues to be a source of fascination and inspiration, forever remaining in style.
SEVEN SISTERS STYLE
By Rebecca C. Tuite
Rizzoli New York
Hardcover / 7½" x 10″
/ 144 pages / 100 color and black-and-white photographs
ISBN: 978-0-8478-4217-9
PRICE: $35.00 US & CAN
PUBLICATION DATE: APRIL 2014
www.rizzoliusa.com