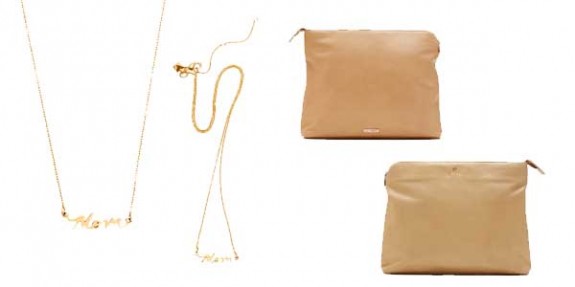 NEW YORK, May 9, 2014/ — Still looking for that something special for Mom? Shop Rebecca Minkoff's Mother's Day picks on www.RebeccaMinkoff.com and find pieces that are great for every Mom!
Featured items include the Rebecca Minkoff x The Glow Luca pouch and the Jewel-Box Collection 'Mom' necklace.
The Glow pouch is the updated version of a conventional diaper bag and can transition from holding baby accessories to chic oversized-clutch. The bag can also be monogrammed for a personalized touch when purchased through Rebecca Minkoff's online monogram shop. Rebecca designed the pouch in collaboration with The Glow for the release of their book, The Glow an Inspiring Guide to Stylish Motherhood.
The delicate 'Mom' necklace adds a personalized touch, great for layering with every day pieces, sure to warm every mother's heart. Shop all of Rebecca's mother's day picks now online.