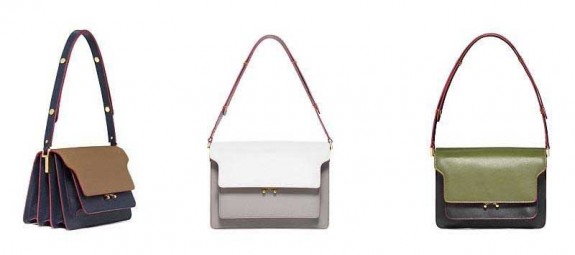 MILAN, May 15, 2014/ — For Spring/Summer 2014, Consuelo Castiglioni came up with the new essential bag – the MARNI TRUNK.
Inspired by the designer's passion for bicycles, the MARNI TRUNK recalls the technical lines and design of the traditional bike wear.
It is offered in one shoulder style available in two sizes. Volume is defined by the TRUNKs multiple compartments and fanned accordion profile. Its adjustable straps easily transform the bag from hand to shoulder unit.
MARNI TRUNK is constructed in an array of materials, mixing utility and decoration. The bi-colored Saffiano leather, with hand lacquered contrasting trims, highlight the precise lines. Silk and cotton or Saffiano leather check pattern TRUNK features an embellished version with an embroidered ribbon with large rhinestones, conveying an eccentric touch.
The MARNI TRUNK is available in all MARNI boutiques and on www.marni.com.