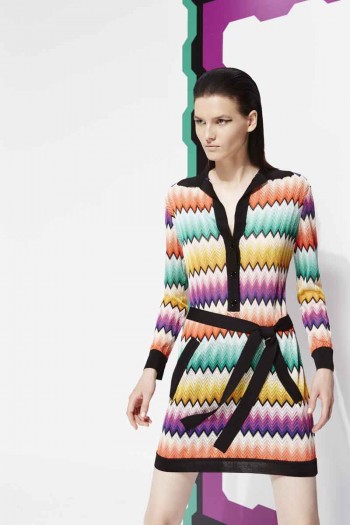 MILAN, Jun 9, 2014/ — Unveiling the brand's Resort 2015 collection, Missoni proposes geometric micro- and macro-elements and abstract prints in bright hues for the cruise season.
With the prints juxtaposed with black or white, the result is a variety of spectacular optical effects such as polychrome pointillé bands, and vibrant graphic motifs of stripes, fret patterns and exaggerated zigzags.
Modular interpretations of abstract compositions evoke Op Art in Bridget Riley's style, Roy Lichtenstein's Pop Art and the works of Frank Stella. The collection also revisits an animalier print from the Missoni archives.
As it is with Missoni collections, knits play a key role and this time it unmistakably revolves around the art of combining, contrasting and overlaying textures, patterns, prints and solid colors. Classical elegance becomes more versatile, free and contemporary.
Single- and double-breasted suits with slim masculine trousers, crewneck cardigans paired with coordinated shorts, and mini- and micro-dresses without sleeves or in a shirtwaist style.
Long asymmetrical skirts in zigzag knits and black ankle-length dresses in sheer lace worn over tank dresses with colored stripes are also proposed.
Garments are intended to be put together in an infinite variety of combinations and, like great works of art, are open to all kinds of personal interpretations.
The collection is uniquely marked by combinations of amber, aquamarine, purple and aubergine; emerald, periwinkle, orange and fuchsia; geranium red, powder pink and lemon yellow. Interactions of bold colors and lively prints are contrasted with stark black borders or by black or white backgrounds.