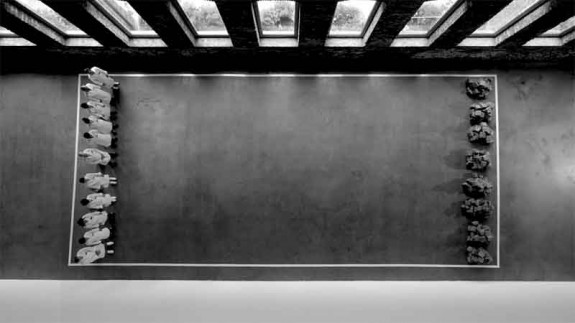 HERZOGENAURACH, Jul 9, 2014/ — adidas presents its collaboration with performance artist Marina Abramovic, unveiling an original, short video celebrating the brand's partnership and support of the 2014 FIFA World Cup™ in Brazil.
The three-minute film captures the first ever re-staging of Abramovic's iconic 1970s performance "Work
Relation"—which focuses on commitment, teamwork and the strength found in togetherness re-imagined through the lens of the 2014 FIFA World Cup™.
This marks adidas and Abramovic's first project together and demonstrates the many parallels that exist between the artist's piece and the play of any team sport.
"Working as a team maximizes commitment, dedication, and ultimately, performance. Collective energy is a source of great strength," offers performance artist Marina Abramovic.
"This is what I came to find through the trials performed in 'Work Relation' (1978, with Ulay). These same qualities are necessary to the foundation of my institute, MAI, and to any unit. I find the commonalities between performance and sport very intriguing and was excited to highlight them in this project."
"Marina Abramovic is among the most provocative and influential artists of our time," comments Dirk Schönberger, creative director of adidas' Sport Style Division. "We are honored to partner with her in the reenactment of "Work Relation", a piece demonstrating the importance of teamwork and collaboration—not only in sports but in all endeavors."
Considered "The Godmother of Performance Art," Marina Abramovic began her body of work in the 1970s. Since then, Abramovic continues to be a global phenomenon, with a 2010 retrospective at
New York's Museum of Modern Art and an award-winning documentary, Marina Abramovic: The Artist is Present. Her latest durational work—entitled Marina Abramovic: 512 Hours—is on view at the Serpentine Gallery in London from June 11th to August 25th, 2014, during which the public becomes an integral part of the piece.
First performed in 1978 by Abramovic and her partner at the time Ulay, the original "Work Relation" was a groundbreaking form of performance art unveiled at the Theatre ann Rijn in Arnhem, The Netherlands.
The original piece–seen reenacted in this film for the first time since 1979—consisted of three sequences, each presenting a unique model for transporting stones from one end of a room to another. Using only buckets and human labor, the three models compare and contrast systems of cooperation and efficiency, with the participants' bodies serving as the medium.
The 2014 execution of Abramovic's "Work Relation" revisits these same themes of the original, while also paying tribute to adidas' partnership with the 2014 FIFA World Cup. Shot on location at Pioneer Works in Brooklyn, NY, by filmmaker Dustin Lynn, the video reflects on the value of dedication and persistence, and the triumphant endurance and success of the group versus the individual