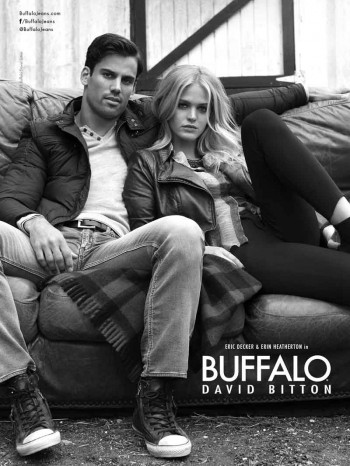 NEW YORK, Jul 23, 2014/ — NFL football player Eric Decker is taking to modeling like duck to water. Headlining the Buffalo David Bitton Fall 2014 campaign with supermodel Erin Heatherton, the New York Jets wide receiver commented on how excited he is for "everyone to finally see our Buffalo ads."
"It was my first time modeling; so I was grateful to have Erin on set to give me some tips and make me feel comfortable," Decker added.
Shot by photographer Jerome Duran, the campaign which is entitled "Buffalo Pro" features Eric and Erin in a rustic setting outside of New York City.
The athlete and supermodel are photographed in a series of sexy images; Eric in vegan leather motorcycle jackets, thermal henleys, classic blue jeans and hoodies, while Erin stuns in a faux fur oxblood vest with a coordinating vegan leather dress and slim fitting dark denim.
"I really liked the Flex jean – you know they almost felt like sweatpants, yet looked so cool and stylish. I can definitely see myself hanging out with Jessie and Vivianne in those," said Eric.
Commenting on how Eric looks in his Buffalo jeans, Erin added, "Eric is the perfect example of what a man should look like in jeans. Just athletic, and you know put together, but really natural and laid back."
Later during the shoot, the football player is shot in Buffalo underwear, while Erin is captured riding a horse in nothing but Buffalo jeans.
Buffalo Pro is a micro-component of Buffalo David Bitton's overall multi-platform marketing strategy built to specifically reach the brand's sports-minded consumer.
Decker is the second pro-athlete to join the sports marketing initiative "Buffalo Pro", which most recently featured a steamy ad campaign with newly drafted Dallas Mavericks' star, Chandler Parsons and model, Ashley Sky.
Buffalo David Bitton is available at major department stores and online at www.buffalojeans.com.