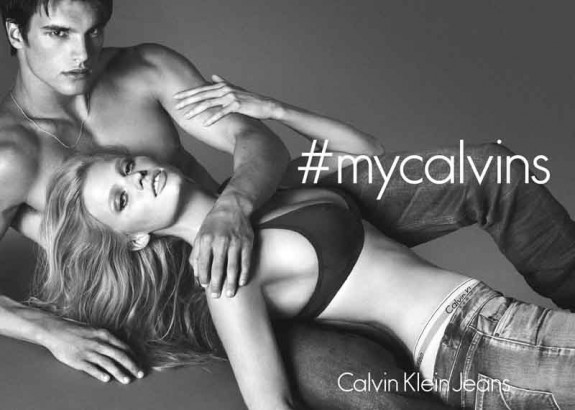 NEW YORK, Jul 15, 2014 / — Supermodel Lara Stone returns alongside Matt Terry to headline Calvin Klein Inc's Fall 2014 global multimedia advertising campaigns that encompass Calvin Klein Jeans and Calvin Klein Underwear brands, as well as Calvin Klein Collection, Calvin Klein platinum label, and Calvin Klein white label.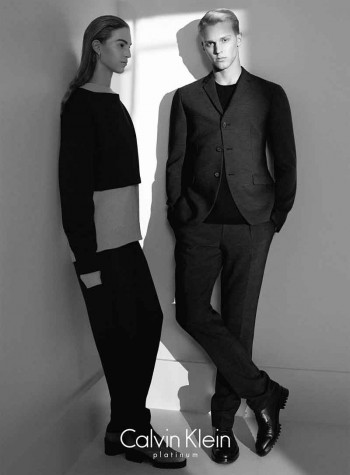 This season, Calvin Klein Jeans and Calvin Klein Underwear will be synergistically brought together in one global advertising campaign featuring supermodel Lara Stone and male model Matt Terry.
The campaign will serve to extend the very successful #mycalvins social media campaign, which was first launched in February 2014.
Until now, the program has focused primarily on encouraging influencers and consumers to post photos of themselves wearing the iconic Calvin Klein Underwear logo product on social media using the dedicated #mycalvins hash tag to share their individual style.
To date, the viral program has seen thousands of image posts using the hash tag, engaging over 6 million fans and reaching over 200 million fans from more than 23 countries.
Beginning with the Fall 2014 season, the #mycalvins program will expand to encourage influencers to also use #mycalvins in photo posts where they are wearing their Calvin Klein Jeans.
Additionally, the #mycalvins hash tag will now be featured prominently on print, digital and outdoor advertising executions as well as in-store, on hang tags and at point of sale.
At retail, the campaign will expand the original call to action to "put it on. take it off. show yours. #mycalvins."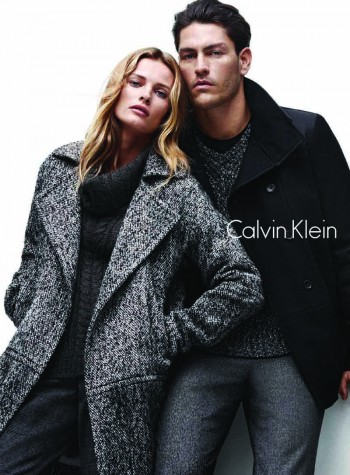 To complement the advertising, the brand will continue to engage celebrity and digital influencers to post inspirational photos of themselves online.
The campaign was photographed by Mert Alas & Marcus Piggott in New York and London, and was produced under the direction of Calvin Klein, Inc.'s in-house ad agency and studio working with creative agency Wednesday London.
The campaign will be comprised of a mix of print, digital and impactful outdoor advertising beginning in September 2014, which will initially exclusively feature Ms. Stone; subsequent imagery featuring both Stone and Terry together will debut in October.
Ms. Stone, considered one of today's top supermodels, has a long-standing relationship with the house; she was first introduced on the Calvin Klein Collection runway at the Spring 2007 show and has been the face of multiple global advertising campaigns for the house's lifestyle brands since Fall 2010.
Mr. Terry has been featured in several campaigns for the house, including the global advertising campaigns for Calvin Klein Collection, Calvin Klein Jeans, Calvin Klein Underwear and the new Spring 2014 creative for Calvin Klein Watches + Jewelry. He is also the current face of Calvin Klein's DARK OBSESSION for men fragrance.
The Fall 2014 global print advertising campaigns for the Calvin Klein Collection and Calvin Klein platinum label brands were photographed by David Sims, and both feature models Vanessa Axente and Clark Bockelman.
Ms. Axente is also the current face of the women's fragrance, endless euphoria Calvin Klein, and was previously featured in the past two women's Calvin Klein Collection advertising campaigns and women's runway shows.
Mr. Bockelman has walked in the last three men's Calvin Klein Collection runway shows in Milan, and this is his second ad campaign for the brand.
Both the Calvin Klein Collection and Calvin Klein platinum label campaigns were shot in Cornwall, England, and produced under the creative direction of Calvin Klein's in-house ad agency and creative studio.
This Calvin Klein white label Fall 2014 advertising campaign was shot in New York City by photographer Dan Jackson and features models Edita Vilkeviciute and Tyson Ballou. This season, Ms. Vilkeviciute also appears in the upcoming Calvin Klein Watches + Jewelry campaign, which was lensed by photographer Mario Sorrenti.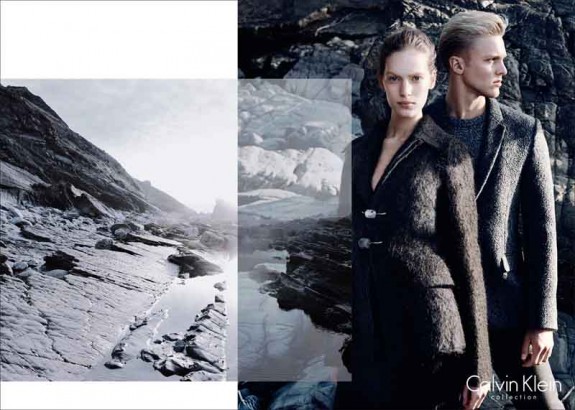 IMAGE CREDITS:
Calvin Klein Collection: © 2014 David Sims
Calvin Klein platinum label: © 2014 David Sims
Calvin Klein white label: © 2014 Dan Jackson
Calvin Klein Jeans: © 2014 Mert Alas & Marcus Piggott
Calvin Klein Underwear: © 2014 Mert Alas & Marcus Piggott