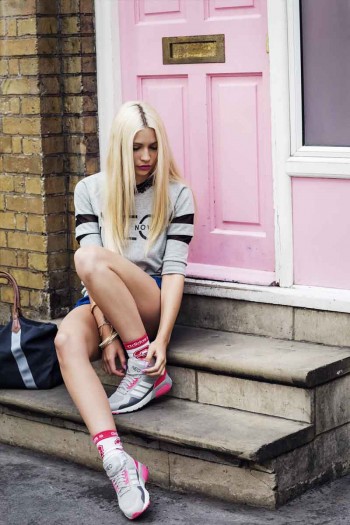 For Fall 2014, adidas NEO label asks, "why choose when you can have both?" Now, you can eat your cake and eat it too!
Mix sport and style with adidas NEO Label's Autumn contemporary sportswear collection, which hits stores and online in July.
Cooling down after a rebellious and hot summer, NEO encourages you to express your inner city, easy and relaxed mood with its range of downtown contemporary sportswear. Blend sports credibility with fashion lifestyle.
Taking this autumns trend sports silhouettes, like track pants and bomber jackets and mixing them with the luxurious materials of shine and shimmer or branded prints. Combining this contemporary sportswear feel with our extensive denim offer available in a variety of fits and washes, NEO helps you get THE autumn look of relaxed city atmosphere with a luxed up twist.
Mixing the trends with sports silhouettes allows for trans-seasonal pieces which are perfect for layering, allowing you to tailor your wardrobe to the late summer weather as well as the chill of early autumn.
Industrial/painted surfaces take queues for guys with updated quilting and embossed details. Material contrasts, fabrics and layers of detail are at the center of the collection and add value to each individual product to create the ideal overall contemporary sportswear look.
Trend highlights for girls of royal blues and softer pastels bring in the newness for the collection. Whereas the colours for the guys will be black and white with essential neon colour pops to really bring the looks together.
Girls have a choice of mixing up tees and sweaters with track pants and shorts focusing on pastel colourings and feminine shiny and drapy materials with feminized bomber jackets, for warmth. Meanwhile the guys will be rocking the 90s sportswear feel, tees with graphic prints, embossed, quilted and laundered fabrics used on bomber jackets and trackpants.
NEO Footwear brings a vibrant new contemporary sportswear offer for both guys and girls. The collection includes lightweight running models like the Lite Racer and 90s model, both inspired by running & basketball silhouettes. The offer is complimented with a more laid back, casual style offer with silhouettes such as the Desert & Vulc mid.
Accessories are key to finishing the contemporary sportswear look. Light scarves and stylish bags are perfect for completing the city looks. Grab a camo printed backpack or a gymsack for a busy day to be followed by a fun night out with friends.