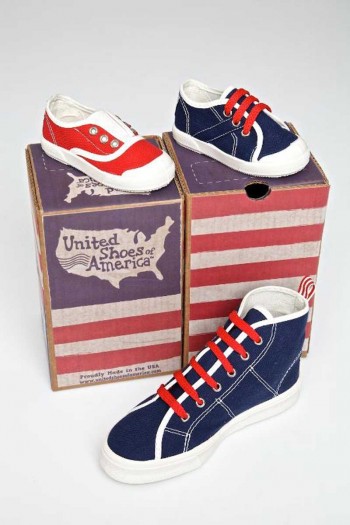 DANVERS, Mass., Jul 9, 2014/ — ShoeString Shoes™ (shoestringshoes.com), dedicated to creating innovative footwear products for toddlers, children and youth, today announced the launch of United Shoes of America™ (unitedshoesofamerica.com), the only children's sneaker brand made entirely from U.S. materials and components.
Featuring styles with red, white and blue colors, the collection debuted July 4th at select online.
"To celebrate the launch of our one of a kind American-made brand, we are introducing this distinct line on the Fourth of July," said Art Rogers, general manager of ShoeString Shoes.
"Our shoes are entirely made in the U.S. drawing on expertise from component factories across many states. The idea for United Shoes of America was born almost two years ago and has taken months of planning to bring these classic American styled shoes to market. We know that American consumers feel strongly about buying products made here at home and know this point of differentiation will resonate."
United Shoes of America shoes come in a variety of styles. Toddler styles include the Mary Jane, T-Strap, Slip-On, Vintage OX Lace and Vintage Hi-Top Lace. Youth styles include Slip-On and Vintage Hi-Top Lace. Footwear ranges in prices from $36.99 – $49.99 and each pair of shoes comes with a reusable natural cotton drawstring bag. Select styles will be phased into retail locations throughout July.
"Parents demand their children's footwear be made from quality materials at an affordable price; this is exactly what United Shoes of America provides," said Kim Lively, owner of Lively Kids (livelykid.com). "Now, having American-made sneakers for kids will be a bonus and it will be hard to keep them in stock."
All component materials for United Shoes of America are made in U.S. fabric mills, plants and other factories. The materials are then cut, sewn and processed by U.S. workers in the finishing factory for a truly 100 percent Made in America product.
Environmentally friendly components include adhesive-free sole construction, waste reduction with the recycling and reuse of excess molded materials and reduced carbon emissions by only shipping in the U.S.