MIAMI, August 13, 2014/ FW/ — Entitled 'A Look Behind the L*SPACE By Monica Wise Resort 2015 Collection', renown designer, Monica Wise presented her L*SPACE by Monica Wise Resort & Spring 2015 collection this past July for the 10th Anniversary celebration of Mercedes-Benz Fashion Week Swim in Miami Beach.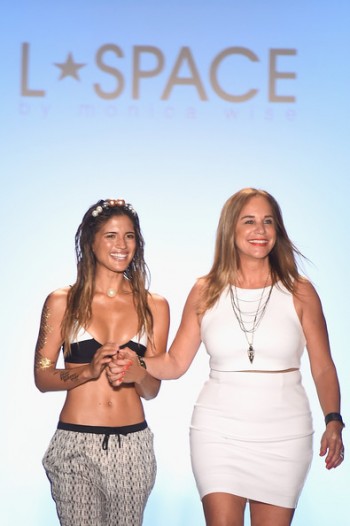 Designer Monica Wise's theme for the L*SPACE by Monica Wise Resort 2015 collection was 'The Water is Waiting', which was carried through all elements of the show, from the deconstructed runway to the styling of each model adding accessories reminiscent of marine life to scale-like tattoos custom made by Flash Tattoos, emulating a mermaid emerging from the water.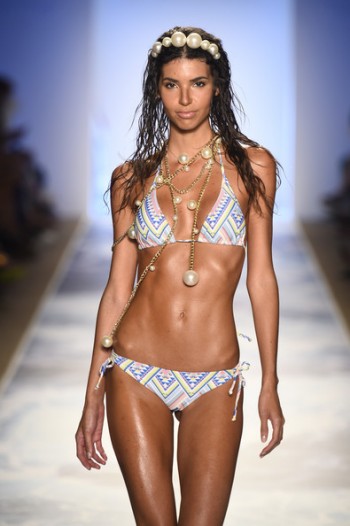 Key swimwear pieces in the L*SPACE by Monica Wise Resort 2015 collection included transitional looks that can be mixed-and-matched with bralette, bandeau, halter, racer back and triangle style tops that can be paired with classic, itsy bitsy, hipster or full coverage bottoms.
As for the apparel looks, the Resort 2015 collection introduced flirty, yet functional staple pieces including tunics, caftans, maxi dresses, rompers, sweater knits, pants and shorts in materials of lace, rayon, crochet, linen and spandex. Worn alone or paired with your favorite bikini, the overall brand pays close attention to detail by incorporating lace, gold hardware, cutouts and its infamous fringe to a range of watercolor and tribal prints as well as bright pastels including shades of green, blue, purple, yellow and pink.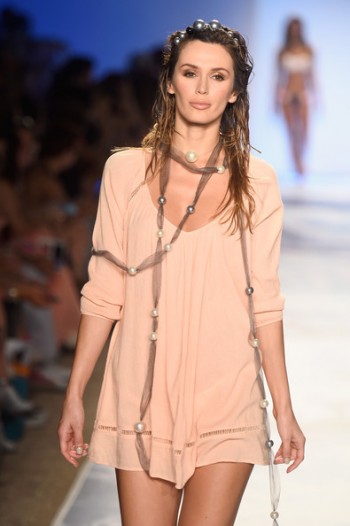 Fashion Windows editor Darby Radcliff catches up with the designer, Monica Wise and Nausheen Shah, the stylist for the runway show, to discuss the design philosophy, collection pieces, and accessories in the L*SPACE by Monica Wise Resort 2015 collection.
What is the design philosophy behind the L*SPACE brand?
Monica Wise: Our brand is based on the design philosophy of mixing and matching and creating reversible pieces to be worn.
What are your favorite pieces in your Resort 2015 collection?
Monica Wise: My favorite pieces in my Resort 2015 collection are the fringy beach sweaters and the night tribe elastic detail back look paired with an itsy bikini bottom.
As for the accessories, what was the inspiration behind the styling for the L*SPACE by Monica Wise Resort 2015 runway show?
Nausheen Shah: I basically custom designed all the jewelry for the show. The theme for the Resort 2015 collection was for the women to portray sirens of the sea and be shown as goddesses coming out of the water luxuriously draped in beads of gold and silver tones.
For more information about the L*SPACE by Monica Wise brand, please visit:
Facebook.com/lspace
@LSPACEswim #THEWATERISWAITING #LSPACE
[Darby Radcliff] Photo Credit: Zimbio