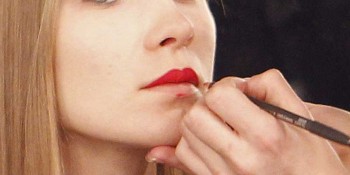 CHICAGO, Aug. 20, 2014 / — It's not just lip service—according to new research from Mintel, after experiencing a 2% decline from 2011-2013, the lip cosmetics segment posted gains of nearly 9% between 2012 and 2014, with sales poised to reach nearly $1.4 billion this year.
While lip cosmetics still account for the smallest percentage of total color cosmetics sales, it is currently the strongest performing segment in terms of growth, compared to 6.4% ($4.8 billion) growth for the facial cosmetics market and 4.2% ($3.4 billion) gains for eye makeup during that same time period.
Bold lip colors continue to be the on-point trend, with nearly one third (32%) of lip product users aged 18-24 looking for intense lip colors, compared to less than 20% of respondents aged 25+. This trend-driven and cyclical nature of the category has elevated the status of lip make-up, making it a "must have" item for many women.
Lip cosmetics are used by the vast majority of women, with nearly nine out of 10 (87%) reporting usage. Lip balm has the highest overall penetration, with 60% of women using it, followed by lipstick at 58%, although there is a definite generation gap.
The 18-24 demographic uses lip balm to lipstick to the tune of 72% vs 50%, while the over 65 senior set uses lipstick over lip balm 82% vs 45%. Of those who use lip cosmetics, 67% look for moisturizing/hydrating claims while 61% seek out long-lasting lip wear and almost half (48%) are swayed my lip softening properties.
"Lip cosmetics have the highest overall reported use among color cosmetics. Lip balm, lipstick, and lip gloss all have similar rates of penetration, suggesting that many women rely on a suite of lip products depending on the occasion or desired look," says Shannon Romanowski, beauty and personal care analyst at Mintel.
"The addition of skincare benefits including moisturizing and softening also provide some added functional benefits. Sales of lip products are on the rise, as more women may be returning to the segment."
Though Mintel research finds that color cosmetics users rely on mass brands, it seems many are inclined to turn to prestige brands for facial cosmetics. Forty-four percent of highlighter/illuminator users purchase from a prestige brand compared to only 24% of lip gloss users who bought prestige.
Shannon adds:
"Facial cosmetics, in general, are viewed as higher-risk purchases – women want to be sure that products are appropriate for their skin type and tone and therefore rely on in-store samples and consultants for guidance.
On the other hand, users of lip cosmetics, especially lip balm, are more inclined to purchase from budget brands in comparison to users of facial and eye cosmetics. Lip products are likely perceived as low-risk purchases, driven in part by their lower prices in comparison to face and eye make-up.
Ultimately, retailers are challenged to help women navigate the sometimes overwhelming color cosmetics category, especially when it comes to higher-risk–and higher-priced purchases such as facial cosmetics."