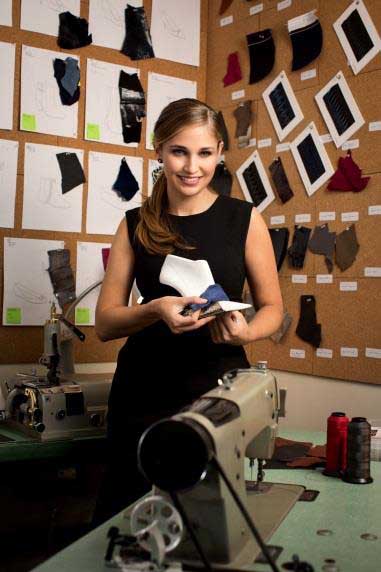 NEW YORK, Aug 1, 2014/ — For Sarah Flint, the Fall 2013 launch of her namesake brand marked the realization of a lifelong dream.
Following studies at Parsons and the Fashion Institute of Technology in New York, as well as internships at Diane von Furstenberg and Proenza Schouler, Sarah honed her technical skills in pattern-making and prototyping at the prestigious Ars Sutoria in Milan, Italy.
At Ars Sutoria, Sarah studied under Richard Siccardi, an instructor and artisan known for his work with several of luxury footwear's most accomplished names.
With similar points-of-view on what makes a beautifully-designed shoe, Sarah and Richard set out to challenge the status quo of luxury footwear, and have been collaborating ever since.
After encouraging Sarah to start her own company, Richard joined Sarah Flint as head of manufacturing outside Milan and in Tuscany, where all her shoes are handmade.
Sarah Flint shoes mark the return of timeless elegance to luxury footwear. A firm believer that sensuality lies in simplicity, Sarah achieves sophistication through subtlety and attention to detail.
Her designs demonstrate not only her mastery of feminine, delicate embellishments and intricate leatherwork, but her deep understanding of the transformative quality of a beautifully-designed shoe.
Sarah's designs have been lauded by the likes of ELLE, Style.com, The New York Times and Women's Wear Daily. She was included in the prestigious Forbes '30 Under 30' list in January 2014.
Sarah Flint footwear is currently sold in specialty retailers across the U.S. and online at www.SarahFlint.com.
The Sarah Flint Summer 2014 Collection